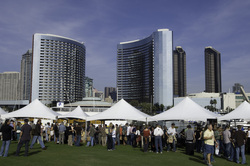 We are ecstatic to have two of the culinary community's top chefs share their passion and love for food at our 6th Annual Festival
San Diego, CA (PRWEB) August 26, 2009
The 6th Annual San Diego Bay Wine & Food Festival(November 18-22) announced today the involvement of chefs Paul Bartolotta and Alessandro Stratta within the Festival's lineup of participating culinary talent. The James Beard Foundation award-winning chefs from Wynn Las Vegas will each host their own cooking class, giving the Festival's attendees a chance to learn from two of the country's most outstanding chefs, said Michelle Metter, co-producer of the Festival.
"We are ecstatic to have two of the culinary community's top chefs share their passion and love for food at our 6th Annual Festival," added Metter. "They each bring their own signature styles mixed with unparalleled culinary knowledge to the line up of cooking classes offered this year. These nationally acclaimed chefs offer our guests a one of a kind experience that is not to be missed."
Two-time James Beard award winner, Paul Bartolotta is the chef of the AAA Four Diamond award-winning BARTOLOTTA Ristorante di Mare at Wynn Las Vegas. He will showcase his devotion to the Italian seaside with his aptly-titled demonstration Seafood, Vegetables, and Olive Oil: Their Impact on the Mediterranean Diet and Specifically Italian Coastal Cuisine. Chef Bartolotta will prepare a menu that focuses on the coastal regional specialties of Italy, emphasizing the use of the freshest seafood and homemade pastas while crafting specialty dishes from the menu below:

Brodeto di Vongole e Porri (Tiny Clams in a White Wine Broth with Leeks)
Shrimp and Cannellini Beans (Warm Shrimp with Cannellini Beans)
Riccola con Raddicchio e Salsa d'Acchiuge (Grilled Amberjack with Wilted Radicchio and Anchovy Sauce)
Insalata di Piovra (Salad with Octopus)
Triglia alla Ponentina (Red Mullet with Capers, Ligurian Taggiasche Olives, Tomato, Roasted Bell Peppers)
Chef Bartolotta hosts his class on November 20, 2009 at the Macy's School of Cooking.
Time: 3 p.m. - 4:30 p.m.
Price: $75 per ticket. This is a limited seating engagement.
Alessandro Stratta, chef of the two-star Michelin rated ALEX and STRATTA at Wynn Las Vegas, will showcase his passion and knowledge of traditional Italian cuisine in an ingredient-focused Italian comfort food cooking class entitled Making Fresh Pasta. The James Beard award-winning chef will take attendees on an epicurean adventure with his use of the freshest ingredients and traditional Italian pasta-making techniques. Chef Stratta will prepare the following signature pasta dishes:
Green and Black Fettuccine with Maine Lobster
Robiola Agnolotti with Wild Mushrooms and Chives
Ricotta and Spinach Cannelloni with Tomato Sauce
Chef Stratta hosts his class on November 20, 2009 at the San Diego Wine & Culinary Center.
Time: 2:30 p.m. - 4 p.m.
Price: $75 per ticket. This is a limited seating engagement.
A complete schedule and line up of all events for the 6th Annual San Diego Bay Wine & Food Festival can be found by visiting the Web site or by calling 619-342-7337.
SAN DIEGO BAY WINE & FOOD FESTIVAL
The 6th Annual San Diego Bay Wine & Food Festival is an international showcase of the world's premier wine and spirits producers, celebrity chefs and culinary personalities, and gourmet foods. Held November 18-22, 2009, the event benefits the American Institute of Wine & Food culinary arts scholarship program. Over 800 wines, 70 of San Diego's top fine dining restaurants and 30 gourmet food companies and exhibitors will participate in the 2009 Festival. For more information about the event schedule visit http://www.worldofwineevents.com.
###