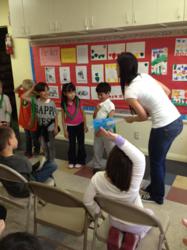 Almost 50% of children are diagnosed with some form of periodontal disease.
San Diego, CA (PRWEB) April 03, 2012
An enormous toothbrush wowed local children during a demonstration by Paul Taylor DMD Advanced Dentistry at the San Diego Boys and Girls Club on February 22. Representatives from the dental practice hope to improve the quality of life for San Diego youths by educating them about the importance of oral hygiene.
Almost 50% of children are diagnosed with some form of periodontal disease (gum disease) according to the Children's Hospital of Boston, and 75% of Americans will develop gum disease during their lifetime. Even though the condition is highly preventable, millions of people still aren't practicing proper oral hygiene or teaching it to their children. Tired of seeing the tragic results of this epidemic, Dr. Taylor decided to tackle the problem where it often starts - in the mouths of children.
During their first oral health demonstration, Taylor's team encouraged the kids to act as teeth, standing side by side while green garlands were set in-between to represent bacteria. Enter a giant toothbrush to clean away the green "bacteria," which was then followed by a thorough flossing with white yarn. The activity was fun and stimulating for the kids, but the message was serious.
"It is important to start taking care of your teeth and gums at a young age because it will help prevent dental issues such as cavities and gum disease, as well as anxiety and fear of the dentist. This is why we want to reach out to the children in the community," said Dr. Paul Taylor, DMD.
Along with demonstrating dental hygiene and gum disease, Dr. Taylor also donated floss, toothbrushes, and toothpaste to the youngsters. Each child left with an arsenal of dental tools and a newfound knowledge of how to care for their teeth and gums.
The offices of Paul Taylor DMD Advanced Dentistry plan to continue reaching out to local youth in an effort to eradicate the devastating effects of advanced gum disease on human health. Dr. Taylor offers comprehensive dental services at his offices in San Diego, CA. To find out more, visit paultaylordmd.com.