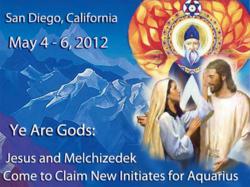 I assist others in fully embracing their capacity to be yielding vessels of light. I use energy-clearing to activate the radiant Light Body at inner levels. Anyone can experience this Light as a presence emanating energetically from within
San Diego, CA (PRWEB) May 01, 2012
The Hearts Center, a spiritual community with centers across America and the world, will come to San Diego for a 3-day seminar that features spiritual healing through San Diego native, Donna Ferri, and teaching from ascended masters through David Christopher Lewis, spiritual director of the Hearts Center.
Highlights of the seminar include: On Friday night, Melchizedek's Twin Flame reveals her name and her mission. On Saturday morning, Jesus & Magda speak on the Sanctity of Marriage for the New Age. There will be a blessing of couples at the end of Jesus and Magda's message. Then, on Saturday afternoon, Magda speaks on The Role of the Aquarian Woman. Late Saturday afternoon, Melchizedek gives a darshan on Communion in Ascended Master Octaves. A darshan is when people in the audience can ask the master questions. At the end of the darshan, communion will be served. Then, Saturday evening, Golden fire prayers with Magda and Jesus and Dinner with two sets of twin flames. Early Sunday morning, Jesus gives a sermon—A Solar Feast With My Holy Brothers. The seminar will be sealed by a surprise message from a very high master.
David Lewis will heartsteam, challenge, enlighten and take participants to new dimensions. He is a mystic, spiritual teacher, composer and author for the Aquarian age. For three decades, David studied the world's major religious traditions.
In the spring of 2004, he had a mystical awakening and began receiving telepathic communications from enlightened spiritual beings known as ascended masters. He maintains that he is not the only messenger for the ascended masters. As a messenger his role is to bring up-to-the-minute teaching, directives and inspiration from the ascended masters, supercharged with their cosmic energy always impelling us higher. David emphasizes often that we are each a messenger in our own right, giving our gift, our particular expression of the Godhead.
Early in 2005, David founded The Hearts Center. This nonprofit organization, dedicated to helping people everywhere nurture their own divine potential, has grown into a world-wide movement with local centers in dozens of cities in the United States, Canada, Latin America, Europe, and Africa. David regularly conducts prayer and meditation services and teaches during daily free Internet broadcasts on The Hearts Center website. He leads conferences and workshops, international pilgrimages and online webinar courses, along with other new age teachers, through Meru University. He has also written and published extensively over the last seven years, sharing profound insights and timely visions for spiritual seekers.
Rev. Donna Ferri is a visionary intuitive, spiritual counselor, writer, and teacher committed to helping people live authentically. Donna has been aware of Mother Mary's presence with her since early childhood. At age 12, after experiencing a vivid past-life recall, she began seeking esoteric wisdom. Formally trained in metaphysics and energy healing, Donna is an ordained minister and certified master spiritual coach.
Since 2001, her spiritual healing and counseling practice has expanded through word-of-mouth and the Internet to include a world-wide following. With Mother Mary's guidance, Donna developed a soul-healing treatment, experienced simultaneously in the physical and etheric. She also leads transformational seminars and meditation retreats via web conferencing and mentors small groups. Her specialty is intuitive visionary soul-readings and deep, inner-energy clearing to help remove blocks to one's life purpose. Her gentle, powerful techniques are based on love and enlightenment. Donna says, "I assist others in fully embracing their capacity to be yielding vessels of light. I use energy-clearing to activate the radiant Light Body at inner levels. Anyone can experience this Light as a presence emanating energetically from within their physical form."
The Hearts Center Community connects many heartfriends worldwide whose mission is to realize personal enlightenment and share the ascended masters' love-wisdom teachings throughout the Earth. The community believes that each soul has a personal connection with her Higher Self. With the ascended masters as examples of selfless living, each individual may advance in personal discipleship toward the goal of the ascension through study, devotion, and service to life.
Join the ascended masters and many fellow spiritual seekers in San Diego from May 4 through 6 at the Bayside Holiday Inn San Diego, 4875 North Harbor Drive, San Diego for an intimate weekend of communion with the ascended masters for initiates of Aquarius. Registration is $333 per person.