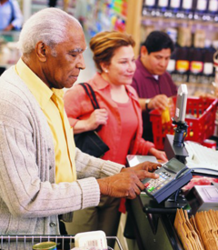 San Diego, CA (PRWEB) February 23, 2012
Jennifer Tracy of the San Diego Hunger Coalition was recently awarded with a 2012 Freshy Award. She was the recipient of the Best Performance by a Local Advocate to Improve CalFresh. Jennifer, the San Diego Hunger Coalition Interim Executive Director, was recognized for her creation of a CalFresh Task Force that brings together County and Community Organization staff to address barriers to food assistance programs advocacy of California legislative policies, operational improvements and training that led to the enrollment of 8,000 new individuals in CalFresh.
The Freshy Awards are organized by the California Food Policy Advocates, a statewide policy and advocacy organization dedicated to improving the health and well being of low income Californians by increasing their access to nutritious, affordable food. The CalFresh Program, formerly known as Food Stamps, adds to a family's food budget to put healthy and nutritious food on the table. The program issues monthly electronic benefits that can be used to buy most foods at many markets and food stores. The CalFresh Program helps to improve the health and well-being of qualified households and individuals by providing them a means to meet their nutritional needs.
With the award, Jennifer Tracy was recognized for her work in training 100+ community organizations and by doing this, helping enroll nearly 8,000 new individuals in CalFresh. She trained organizations such as the San Diego Food Bank, Chula Vista Collaborative and the Encinitas Community Resource Center. Jennifer comments, "There was much misunderstanding among organizational staff about CalFresh eligibility and enrollment procedures." Jennifer eliminated any misconceptions and confusion about the process among San Diego organizations. "Through these partnerships, the San Diego Hunger Coalition is able to identify systemic barriers in the CalFresh enrollment system. By communicating these barriers to the County of San Diego's Healthy and Human Services Agency (HHSA) staff they are able to address these barriers at the root cause and ensure more people are able to access benefits." Jennifer also creates opportunities through the CalFresh Task Force to build relationships between CBOs and HHSA staff, in order to improve the collaboration between County and nonprofit entities, thus improving services to the public.
In addition, Jennifer was recognized for her work in helping the County pilot a new "pub-assist" email address that will allow CBOs (community based organizations) to email the special 211 San Diego workers to receive statuses on multiple cases at once. This seemingly simple procedure took many hours to discuss, build and implement, and Jennifer was at the forefront of ensuring that it happened and that the CBOs will be satisfied with the result. "In the past, CBO workers would need to receive case statuses by phone. It was extremely difficult to even get in the phone queue and once you were in it, it would be at least a 30-minute wait." Jennifer worked with a variety of partners to develop an email procedure that allows for timely, direct information to CBOs. "This simple email system will dramatically decreased barriers in the system, allowing CBOs to quickly gain access to vital case information."
Lastly, Jennifer advocated state legislation that was passed into law in October 2011 via her participation in multiple San Diego County CalFresh collaboratives and workgroups. She provided information, education, training and support to the San Diego community about the effects of the upcoming changes. The recent changes streamline the CalFresh registration process such as not requiring fingerprinting as part of the process. Jennifer comments, "The old regulations required every CalFresh applicant to be fingerprinted – even though there were already other safeguards in place to prevent fraud. Removing the fingerprint requirement has eliminated much bureaucratic red tape."
The Freshy Awards are awarded at the annual CalFresh Forum and took place in Sacramento on February 8, 2012.
For more information about the San Diego Hunger Coalition, please visit http://www.sandiegohungercoalition.org/
For more information about CalFresh, please visit http://www.calfresh.ca.gov/
###