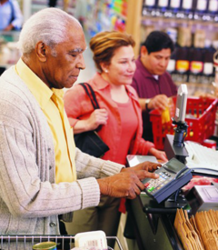 These awards highlight the importance of cooperation and partnership. Solving hunger is not impossible, but we can't do it alone.
San Diego, CA (PRWEB) March 02, 2012
During the week of February 27, the San Diego Hunger Coalition announced the winners of the CalFresh Task Force awards. The awards were divided into three categories: Outreach Partner (Community Based Organization) of the Year, County Liaison of the Year and County-Community Partnership of the Year. Jennifer Tracy, Interim Executive Director of SDHC, discusses the importance of the awards; "The CalFresh Awards celebrate those in our community who have worked hard to ensure access to CalFresh as an important part of the solutions to hunger and nutrition."
The CalFresh Program, formerly known as Food Stamps, adds to a family's food budget to put healthy and nutritious food on the table. The program issues monthly electronic benefits that can be used to buy most foods at many markets and food stores. The CalFresh Program helps to improve the health and well-being of qualified households and individuals by providing them a means to meet their nutritional needs.
The winners were announced at the all-region CalFresh Task Force meeting. The following are the winners:
Outreach Partner (CBO) of the Year:
Jenny Seneor, Feeding America San Diego
Daniela Solano, San Diego Food Bank
County Liaison:
Craig Maze, Northcentral Family Resource Center
County-CBO Partnership:
ACCESS Contact Center and 2-1-1 San Diego
Tracy comments, "These awards highlight the importance of cooperation and partnership. Solving hunger is not impossible, but we can't do it alone. The collaborations developed by San Diego Hunger Coalition and our partners allow each organization to efficiently use the resources they have, focus on what we do best, and help each other become stronger. We are proud to sponsor this recognition of important work and the difference it makes to the seniors, individuals and families that need food help."
For more information about the San Diego Hunger Coalition, please visit http://www.sandiegohungercoalition.org/
For more information about CalFresh, please visit http://www.calfresh.ca.gov/
###