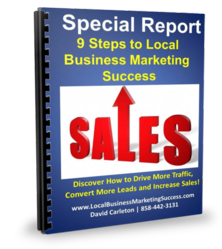 If your business isn't on page one of Google, it doesn't exist, and if people can't find you, they can't buy from them either, it's that simple!
San Diego, CA (PRWEB) May 28, 2013
David Carleton, a leading San Diego Internet Marketing Consultant has recently published an Internet Marketing guide for small business owners. Dave specializes in showing small business owners how to grow their business using unique Internet marketing strategies.
According to Carleton, president of Local Business Marketing Success, "These days, just having a website is not enough, in fact it's just the beginning. In most instances, if a business isn't on page one or at the very least page two of Google, that business doesn't even exist. And if people can't find a business, they can't buy from them either, it's that simple."
"To make matters worse, take a look at all the time money and resources business owners spend creating that beautiful websites that many of your their potential clients and customers will never see," continued Carleton. "It is for that reason, that I create the 9 Steps to Local Business Marketing Success guide."
"Not having a totally integrated Website and Internet Marketing strategy for your small business will cost small business owners sales and profits day after day, year after year! This guide was created to provide small business owners the tools they need to begin to dominate the search engines, generate more qualified leads and ultimately increase sales," said Carleton.
Strategies included in the report include, search engine optimization, video marketing, social media, lead generation and conversion, follow-up marketing and referral marketing. Owners looking to pick up a copy of the report, can do so by visiting the company's website at http://localbusinessmarketingsuccess.com/testimonials/.
Dave has been a keynote speaker for many industry, Chamber and trade groups across the United States and has written several books including The Ultimate Lead Generation System and The Essential Referral Marketing System. In addition, he is a frequent guest on San Diego's KUSI and CW6 morning news providing unique strategies to small business owners on Social Media, Internet Marketing and Lead Generation.
About David Carleton and Local Business Marketing Success
David Carleton is a San Diego Local Business Marketing Success Consultant who specializes in showing small business owners how to spend less and get more from their marketing and advertising using low cost strategies in local business marketing, lead generation and conversion, Internet marketing and social media.
Dave has developed sales; marketing and training programs that have helped hundreds of businesses in 30 countries around the world generate leads, increase sales and enhance their overall marketing effectiveness. To watch the demo video and review a list of speaking topics go to: http://LocalBusinessMarketingSuccess.com/public-speaking.