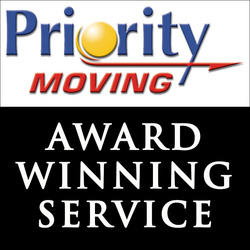 We are honored that the prestigious American Moving and Storage Association awarded the coveted ProMover designation on us. This designation is reserved for a select group of moving companies that adhere to a stringent moving industry code of ethics
San Diego, CA (PRWEB) June 18, 2010
Award-winning San Diego movers, Priority Moving, has attained ProMover designation. The American Moving and Storage Association (AMSA) recently recognized the nation's top moving companies with the ProMover designation, and Priority Moving, Inc., an award winning San Diego moving company offering local, long distance and international moving and secure storage, made the cut.
The AMSA launched the ProMover consumer protection and certification program in 2009. It is designed to give moving consumers an easy way to separate reputable, professional movers from con artists out to make a quick buck at the moving consumer's expense. Priority Moving – San Diego Movers is thus proud to promote and present its status as a ProMover certificate recipient.
"We are honored that the American Moving and Storage Association http://www.moving.org awarded the coveted and prestigious ProMover designation on us. This designation is reserved for a select group of moving companies that adhere to a stringent moving industry code of ethics," said Bryan Bloom, president of the San Diego moving company, Priority Moving, Inc.
Linda Bauer Darr, the President of AMSA states that the AMSA "represents more than 3,200 members, including interstate moving and storage companies, local movers, international movers plus industry suppliers and state association members. AMSA's chief goals include strong support for effective government regulations and policies that protect consumers while allowing members to provide quality service at compensatory prices, and ensuring that consumers understand the value of professional moving and storage services."
With nearly 35 employees and a large fleet of modern trucks, Priority Moving – San Diego Movers provides its' moving customers a very consistent and high level of quality. As evidence of this over 1,000 customer testimonials are proudly displayed on the Company's website.
To learn more about the ProMover designation, visit http://www.promover.com. And to learn more about the San Diego moving company, visit http://www.prioritymoving.com.
About Priority Moving, Inc.
Founded in 2002, Priority Moving are Award Winning San Diego movers. They perform over 3,000 moves per year including local, long distance, international and secure storage. They are insured and licensed (CAL T-189943). For long distance moves, Priority Moving is an agent for Wheaton World Wide Moving. The San Diego moving company has been featured on Fox News and maintains an A+ rating with the Better Business Bureau (BBB).
Media Contact:
Bryan Bloom
858-689-2525
# # #