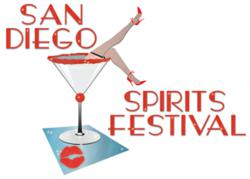 San Diego Spirits Festival named one of the top 5 Cocktail Festivals in America by Fodors.com
San Diego, CA (PRWEB) April 30, 2013
Commemorating the thriving San Diego cocktail culture, the San Diego Spirits Festival embarks on the ultimate quest to find the best talent behind the bars with a series of Spirited Cocktail Wars leading up to the Ultimate Battle at the Festival in August. The first in the series of Cocktail Wars kicked off on Thursday, April 18 at the W San Diego Rooftop,
Twelve Bartenders were challenged to create a cocktail on the fly in 3 elimination rounds in front of an esteemed panel of industry judges; Cervantes Magaña, Frankie Thaheld, Oscar Takahashi, Mario Marquez and Marco Ramos. competing bartenders: Chris Burmeister, Chris Burkett, Antonio Gonzales, Dante Raphael Concepcion Jr, Scott Moises, Sonny Jensen, Valerio Nieto, Andrew Forbregd, Terrence Mooney,Shawn Findley and Evgeny Anisimov.
As dusk fell it was finally narrowed down to the final four. The final round was close, with points between the Winner Chris Burmeister and Chris Burkett, followed closely by Antonio Gonzalez and Scotty Moises.
Participating Brands, Milagro Tequila, Zephyr Gin, Diplomatico Rum, Crater Lake Ginger Vodka & Espresso Vodka, 619 Vodka, Pisco Porton, and the secret ingredient in the Final Round Montelbelos Mezcalar.
About the San Diego Spirits Festival
The 5th San Diego Spirits Festival (taking place Aug 24 -25) will offer up 2 days of spirited celebrations, with Cocktail Competitions, Chef Demonstrations, Fun Educational Seminars, VIP after-parties, and other fabulous and unexpected entertainment, the San Diego Spirits Festival is a Lifestyle designed event that offers a one-of-a-kind and memorable experience! Tickets are available online.
The San Diego Spirits Festival is planed for the consumer and industry insider alike – with endless opportunities to learn about all trends in both cocktails and culinary. From under the radar artisan craft spirits to discovering the 'next big brand' – the San Diego Spirits Festival offers something for everyone.
San Diego Spirits Festival will draw international attention and offers a multi-faceted thrilling event combining the three most important elements to any festivity…Cocktails, Culinary and Culture. From the prestigious Executive Chef to the Mixologist, the local foodie, and all the way to the novice cocktail enthusiast, the two-day festival promises to delight and excite all who attend.
San Diego Spirits Festival was founded and launched in San Diego in 2009 by Liz Edwards. San Diego Spirits Festival is a nationally acclaimed celebration of cocktail culture, and is the premiere West coast spirits festival held on the beautiful San Diego bay. With bartender competitions, tastings, seminars and parties, the festival offers a one-of-a-kind opportunity for brands to be supported and gain recognition among San Diego's cocktail and culinary community and beyond.