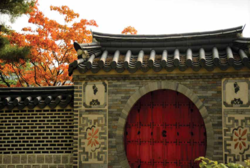 "These sites hold a strong magnetic attraction for me and I am captivated by how sacred architecture weathers with time and the environment," said photographer Teri Sandison.
Napa Valley, Calif. (PRWEB) December 20, 2012
Photographer Teri Sandison today announced the launch of her exhibit, Ancient Textures and Sacred Landscapes, showing January 13 through March 6, 2013 at Robert Mondavi Winery in the Napa Valley. The exhibit features more than 25 photographs, which capture the relationship of nature and spirituality. Located in the winery's Vineyard Room, the free gallery showing is open to the public during daily visiting hours of 10:00 a.m. to 5:00 p.m.
Sandison's newest series focuses on sacred sites in Asia including China, Thailand, Korea, Bali, Indonesia, and the Gyeongju area in South Korea, where deep roots and ancient architectural design show the inherent connection of humans to both nature and spirituality. Her work examines the cycles of regeneration and rebirth, in temples and tombs and sacred landscapes in nature. The structures photographed were designed to hold and enhance the rituals of living and dying, and connect the human society to its history and lineage.
"These sites hold a strong magnetic attraction for me and I am captivated by how sacred architecture weathers with time and the environment," said Sandison.
Sandison believes the diptych and triptych photography format in which she presents many of her pieces captures the inevitability of imminent change, which is inherent in nature and all existence. The theme of impermanence, and the struggle of man's futile daily battle to prevent change, is a common teaching in Buddhism, which has deep roots everywhere in Asia. One of Sandison's favorite works of her upcoming exhibit is "Forest at Sacred Mt. Emei Triptych", in Sichuan, China. She captured the images at first morning light, during a rain shower with heavy mist in the air.
"As I turned down the path, I was mesmerized by the surrounding bamboo forest," said Sandison. "I could feel the atmosphere of religious pilgrimage, and the sacred spirit which the forest was holding."
In addition to the sacred sites Sandison photographs, the Vineyard Room at Mondavi where her artwork will be on display also holds a special place in her heart. The gallery offers a window looking up to a hill in Oakville where she and her husband Hugh Carpenter, a noted cookbook author, lived for 16 years. Sandison and Carpenter were first introduced to the space more than 25 years ago when Robert and Margrit Mondavi invited the couple to a private lunch to offer advice on local architects. Since then, Sandison has photographed several professional and personal events in the gallery for the Mondavi family.
"I'm honored to have my work displayed in such a significant space, and where so many other great local artists have been featured including Robilee Frederick Dean and Gordon Heuther," said Sandison. "This exhibit is also my way of honoring Margrit, a kindred sprit, and our shared love of travel."
All of the framed photographs at the exhibit are available for purchase directly at the winery, and range in price from $950 - $1650. The prints are limited to editions of six, and are printed with archival pigment inks on German Hahnemuhle etching paper, known for its superior saturation of color and noticeable depth. Ten percent of all proceeds will benefit the UNESCO World Heritage Site Fund, which protects and restores ancient sites around the world. Sandison's unframed prints, ranging in price from $750 - $1200, are also available for purchase.
For more information on Sandison's Ancient Textures and Sacred Landscapes exhibition, please email teri@terisandison.com, visit Robert Mondavi Winery located at 7801 St. Helena Hwy., Oakville, California 94562 or by calling the winery at (707) 968-2200.
###
About Teri Sandison
Teri Sandison began her art training at the University of California, Berkeley with Peter Voulkos in ceramics, and continued at the University of California, Los Angeles where she graduated with a Fine Arts degree with an emphasis in painting and drawing. She studied painting with Ed Ruscha and Lynn Foulkes, and her lifelong passion for Asian art and aesthetics was fostered by Japanese sculptor Morio Shinoda. Sandison later specialized in photography, and received advanced training at the Art Center College of Design. She specialized in food and wine still-life photography, opened a Hollywood studio in 1979, and served as a photography faculty member at the Art Center in Los Angeles.
In 1990, Sandison and her husband Hugh Carpenter moved to the Napa Valley where she opened a food and wine advertising photography studio. She has photographed more than 60 cookbooks, including 15 with her husband as author – an icon in California fusion techniques and a leader in the culinary arts industry. Through her cookbook photography, Sandison earned the Who's Who of Cooking Platinum Plate award as Best Food Photographer in 1989, the IACP nomination for Best Food Photography in 1990, and a James Beard Award nomination in 1995. She has spoken and exhibited her photography in numerous galleries, including the Portland Art Museum, the James Beard House in New York, the Vorpal Gallery in San Francisco, the Smithsonian Institute in Washington D.C., Mumm Napa Valley, the Napa Valley Museum, and the Lee & Lee Gallery in Los Angeles.
Sandison and her husband currently live in the Napa Valley, and she continues her photographic journeys. Her current landscape and architectural works aim to capture the rhythms of nature and the interactions of human forces with nature at sacred sites around the world. To learn more about Sandison, please visit http://www.terisandison.com