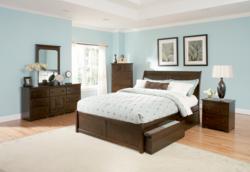 Sandra Bullock has credited her bounce back to her bubbly self in large part to her son, Louis, who has been on the movie set of her latest big-screen project, "Extremely Loud and Incredibly Close."
Houston, TX (PRWEB) August 18, 2011
Home and Bedroom, an online retailer of quality bedroom furniture including storage beds, is making a Celebrity Kids Bedroom Set, like the one Sandra Bullock's son enjoys, affordable for average parents. Through September 30th, the company is having a 5% off sale on its already reduced prices. Shoppers who would like to take advantage of the extra savings can enter the code "backtoschool" in any coupon box on the Home and Bedroom site.
With school starting, many kids are graduating to boys beds and girls bedrooms from their earlier equivalents. Older kids have a need for more storage, with room to put their ever increasing cache of toys and clothes. With the current economic situation, families young and old will be eyeing the costs of everything they buy. Home and Bedroom spokesman, Ben Weissman, says, "Every family wants to make a lifestyle similar to what celebrity kids enjoy available to their kids, and we would like to make that notion as affordable as possible."
Sandra Bullock has credited her bounce back to her bubbly self in large part to her son, Louis, who has been on the movie set of her latest big-screen project, "Extremely Loud and Incredibly Close." But at 19 months of age, the "Cajun Cookie," as Bullock has affectionately dubbed him, needs a sturdy bed and storage for all his favorite toys. Home and Bedroom thinks a storage bed can provide him with both of those things. In a "People" cover story, the magazine recently reported the movie came at "the anniversary of her official adoption of Louis." The director of her new film, Stephen Daldry, said "She had little Louis with her, and it was a very familial environment on-set".
Now the company is out to make the same bedroom perks available to everyday parents with its Back-to-School sale. Parents who want to lend a bit of glamour to their kids beds, can see storage beds and childrens bedroom sets by Atlantic Furniture, Prepac Furniture and South Shore Furniture at Home and Bedroom Furniture's online store. For more information on how any child can have the same comfy, cozy rest Sandra Bullock's son is treated to, contact Home-and-Bedroom.com's spokesperson Jennifer Macahala at jmachala(at)home-and-bedroom(dot)com. To take advantage of the Back to School 5% off sale, visit Home and Bedroom online at http://www.home-and-bedroom.com/ and enter the code "backtoschool" in the coupon box at the bottom of any checkout page.
###