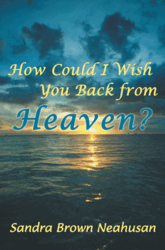 How could we ever wish someone back from Heaven?
Nokomis, Florida (PRWEB) November 15, 2012
Author Sandra Brown Neahusan has written a book describing her journey through grief and recovery after the sudden death of her husband in 2010.
They were planning a move to become full-time Florida residents when he passed away suddenly. There was no warning and no chance to make preparations for her as she began her life alone. Faith in God, a strong support system with family, friends and clergy help to ease the path of grief.
It is a great comfort to know one is not alone when a tragedy like this happens.
Sandra's road through grief has been difficult, gut-wrenching at times, as anyone's would who loses a loved one. There have been wonderful times of encouragement also in seeing God's wonders in nature and in friends who supported her. She credits her faith and trust in God as the force behind her recovery. Also instrumental was a support system of friends who ministered to her.
She has a great burden for others who have lost a spouse and desires to be an encouragement and source of information about how to live the rest of one's life after a spouse has died. People sometimes have difficulty expressing their feelings of hopelessness, aloneness and despair after the death of a loved one, but Sandra approaches these with honesty, courage, compassion and humor.
She and her husband were faithful followers of God and served their local church in many ways. She desires to continue serving God. They also worked with Southern Baptist Disaster Relief on hurricane recovery projects after Hurricanes Floyd and Katrina.
About the Author
Sandra Brown Neahusan is a graduate of Spring Arbor University. She has lead ladies Bible Study groups and has spoken at womens' church gatherings. She is available for speaking engagements to women's groups on grief recovery.
For information on ordering please visit this website: http://www.wishyouback.com
She can also be reached on Facebook: Sandra Brown Neahusan