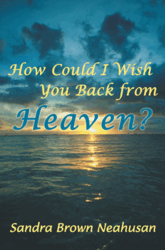 Each morning when we wake up, we do not know what we will have to face before going to bed that night.
Nokomis, FL (PRWEB) November 29, 2012
Sandra's road through grief has been difficult, gut-wrenching at times, as anyone's would who loses a loved one. There have been wonderful times of encouragement also in seeing God's hand in guiding the many decisions which have been made, and in friends who supported her. She credits her faith and trust in God as the force behind her grief recovery.
One comment on her Facebook page reads: "Sandy's book is a gift to us from her heart. It is beautifully written and will help anyone who has lost a loved one. She is one strong lady and I am personally grateful to her for letting us into her mind and heart."
She has a great burden for others who have lost a spouse and desires to be an encouragement and source of information about how to live the rest of one's life after a spouse has died. People sometimes have difficulty expressing their feelings of hopelessness, aloneness and despair after the death of a loved one, but Sandra approaches these with honesty, courage, compassion and humor.
She and her husband were faithful followers of God and served their local church in many ways. She desires to continue serving God. They also worked with Southern Baptist Disaster Relief on hurricane recovery projects after Hurricanes Floyd and Katrina.
"How Could I Wish You Back From Heaven?" has been available for the past six weeks. It can be found at westbowpress.com, barnesandnoble.com and amazon.com.
There have been very encouraging comments from people who have read the book. Many people have purchased multiple copies to share with friends and family members.
Sandra Brown Neahusan is a graduate of Spring Arbor University. She has lead lady's Bible studies and is available to speak to women's groups anywhere in the United States. For more information please go to her website: http://www.wishyouback.com