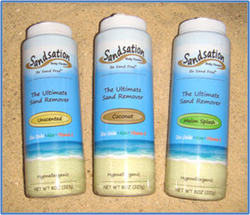 and that is exactly what our friends, family and now our customers have been telling us
Nesconset, NY (PRWEB) September 9, 2009
The days of waiting in line to rinse sand off under a rusty public faucet after a day at the beach are over, thanks to a new product now on the market, Sandsation® Body Powder. For as long as people have been combing the sandy shores, one of their most irritating problems has been figuring out how to best remove sand from their skin.
Anyone who's ever been to the beach knows sand has more than a slight tendency to stick to skin. Combine this with use of oils, lotions, and sunscreens, and sand becomes practically impossible to remove. "I can remember many occasions being at the beach - feeling like a breaded chicken cutlet!" says Michele Calluzzo-Grunhaus - one of the product's creators. When not removed effectively, sand makes its way into cars and homes. Sand can also cause skin irritation, discomfort, and leave a messy trail in its wake.
"I thought of the idea several years ago one summer day relaxing with some friends at Jones Beach on Long lsland, NY", says Michele. "Watching everyone waiting in line to rinse under rusty public faucets or wiping with towels, mostly with limited success, I figured there had to be an easier, more effective way to get sand off at the beach." After sitting on the idea for some time, Michele brought it up to her husband, Mike Grunhaus. "My husband and I discussed the idea and we decided to create a new beach product to make every beachgoers life a little easier." Michele and Mike brought in their best friends, another married couple, John and Diane Rorick, to help. Together, the four Long Islanders started a small family owned company, Grunrick Enterprises Inc., and they set out to bring Michele's idea to life.
After months of research and mixing various ingredients, the four friends concocted a body powder that not only was amazing at getting sand off, but had some serious skin benefits as well. They took their idea to a local cosmetics manufacturer on Long Island, who perfected their formula in a laboratory.
"We believe Sandsation® Body Powder is the ultimate beach sand remover," says Michele's husband Mike "and that is exactly what our friends, family and now our customers have been telling us", some of which has been posted on the Sandsation® testimonials section of their site. In addition to its outstanding ability to make sand slide right off one's skin, Sandsation® Body Powder is hypoallergenic and enriched with a blend of anti-oxidant, skin-protectant and anti-irritant ingredients including Zinc Oxide, Aloe & Vitamin E to soothe irritation and leave skin feeling refreshed. It's also sand colored using a blend of natural iron oxides to give it a 'beachy' feel. Sandsation® Body Powder is available in three variations to appeal to every beachgoers senses - Coconut, Melon Splash and of course - Unscented (for those with a sensitive nose.)
Made for beachgoers by beachgoers, Sandsation® Body Powder will keep sand out of your car and home, ensuring you never bring the beach home with you again. "Our goal is to be the new 'must have' accessory to bring to the beach along with sun block and flip flops." says co-creator Mike. "We have national aspirations and hope to work with retailers across the country and the Internet to make Sandsation® Body Powder easily available to beach-going consumers everywhere." Interested retailers can visit the Merchant page of their website for wholesale and affiliate information to begin selling Sandsation® Body Powder.
Sandsation® Body Powder comes in a sleek 8oz bottle with eye-catching labeling and is extremely easy to use. Simply twist open the cap, shake some powder into your hand or onto your skin and wipe away the sand. Unlike other products that claim to remove sand, Sandsation® Body Powder doesn't require the use of a towel, hand mitt, powder puff or applicator. "All you need is your hand to apply Sandsation® Body Powder," says Michele, "which makes it the most effective product for getting sand off from in between your fingers and toes."
For additional product information or to buy Sandsation® Body Powder at their online beach shop, visit Michele, Mike, John and Diane at their brand new website - BeSandFree.com. They are readily available for media interviews and coverage, and are happy to provide product samples for review. They can be reached at:
Mike Grunhaus, CEO
Grunrick Enterprises Inc..
52 Forest Ave
Nesconset, NY 11767
Phone: (631) 241-5304
Website: http://www.BeSandFree.com
###