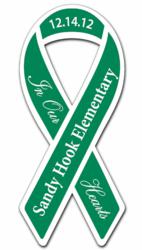 Chicago, IL (PRWEB) December 31, 2012
The day after the tragedy at Sandy Hook Elementary school in Newtown, Connecticut, people all over the country began contacting SupportStore about awareness items to help show support for the grieving community and help draw awareness so acts like this never happen again.
SupportStore is known as the online place to buy premade and custom designed items that help people communicate how much they care about an issue or a cause.
In the case of Sandy Hook, SupportStore worked with a Connecticut customer to design a ribbon magnet for their own fundraising. SupportStore.com also stocked that same Sandy Hook ribbon magnet making it nationally available and easy for anyone in the country to buy and have shipped in quantities of 1 or more. Each ribbon magnet sells for $10 of which $8 is donated by SupportStore to the Connecticut PTSA Sandy Hook Fund.
In addition, SupportStore pulled together an assortment of existing in-stock items related to awareness for this tragedy and listed them on the Remembering Sandy Hook Elementary page. Different colors pertain to the Sandy Hook school colors, mental health awareness, and anti-violence awareness. SupportStore is also donating 5% of profits from these items to the Sandy Hook PTSA through January 10, 2013.
The outpouring of support from customers all over the USA has been overwhelming. As of December 31st, SupportStore customer purchases have generated over $3,200 in direct donations and that amount is growing daily. The beneficiary chosen is the Connecticut PTSA Sandy Hook Fund, located at 60 Connolly Parkway, Building 12, Suite 103, Hamden, CT 06514.
Monetary donations are proving most useful, and the Connecticut PTSA is directing the use of the funds for benefit to the community.
About SupportStore
SupportStore is an online only retailer of items people and businesses use to "shout out what they care about."
Customers choose from 500 in-stock items that ship same day, such as a "Hope Courage Faith" green silicon rubber wristband or a green enamel on metal lapel pin. Customers can also choose to create a custom designed magnets in quantities of 125 or more, many delivering within 10 days.
SupportStore's "products with a purpose" are low cost ways to help create awareness and raise money for causes that people care about most, primarily through:
--indoor/outdoor oval, circle and ribbon car magnets
--silicon rubber debossed wristbands
--metal lapel pins
--embroidered lapel ribbons
--clear vinyl static clings
With a total inventory of over 500,000 items, SupportStore can supply both consumer needs and businesses with products for fundraising events, awareness programs or memorials.
SupportStore was founded in 1999, has 8 employees, a warehouse in St. Louis, and annually donates a portion of health awareness item profits to charity.
###