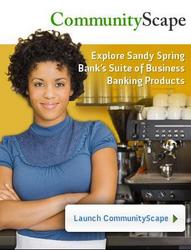 The application is designed to demonstrate Sandy Spring's products in action, and we added Live Chat to ensure that as soon as someone sees a new way that we can benefit their business, they can get personalized help to make that solution happen
Baltimore, MD (PRWEB) August 27, 2009
G.1440 is proud to announce the launch of "CommunityScape" - an innovative new component to the corporate website of client Sandy Spring Bank. CommunityScape is a virtual community landscape that visually demonstrates how Sandy Spring's products support businesses that make up the community.
A major goal of the site, located at http://community.sandyspringbank.com/, is to showcase the breadth of services that Sandy Spring offers. "Instead of just listing their services on the corporate website, we designed CommunityScape to be an interactive & visually stunning application that shows how Sandy Spring's services reach into our community," said lead designer Matt Deville, G.1440's Creative Director.
Inside the application, users are encouraged to visit different locations that reflect Sandy Spring Bank's footprint from Frederick to Annapolis to Northern Virginia. The application displays examples of people and businesses in each location, and the banking solutions that power these types of organizations.
CommunityScape was launched less than a month after J.D. Power and Associates' 2009 Retail Bank Shopping Study reported that "brand image matters most" when selecting a bank. G.1440's Director of Marketing Tim Kassouf expects CommunityScape to have an impact on Sandy Spring's brand image with both retail and business customers.
"Prospects and customers that visit the application will be impressed with Sandy Spring's reach into the community - this is truly a community bank," said Kassouf. "The professionalism and attention to detail within the application will go a long way in representing the Sandy Spring brand."
G.1440 designed CommunityScape in partnership with Don Haasen, SVP, Alternative Delivery, at Sandy Spring Bank. Haasen plans to track the site's popularity and is considering future expansion to include more branch and consumer-focused services.
Live Chat was also built in to CommunityScape to give visitors an immediate connection to a Sandy Spring Bank Client Service Center representative. "The application is designed to demonstrate Sandy Spring's products in action, and we added Live Chat to ensure that as soon as someone sees a new way that we can benefit their business, they can get personalized help to make that solution happen," said Haasen.
About G.1440
G.1440 provides IT Solutions, including custom web application development, web design, online marketing and Tech Staffing that Get IT Work for leading companies nationwide. G.1440 is also leading the charge for hacker prevention by offering affordable application security monitoring to help organizations prevent automated web attacks.
###