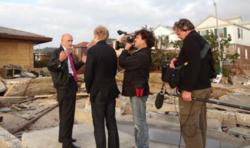 Lido Beach, New York (PRWEB) November 28, 2012
With Superstorm Sandy setting up to be a policyholder nightmare because of the severe flooding and water damage, claim adjusting and loss assessment firm Tutwiler & Associates has launched a website http://www.sandyinsuranceclaimadjuster.com along with the Hurricane Sandy Insurance Claim Tips blog that will provide insurance claim tips and FAQ's to policyholders trying to maneuver through the technicalities of National Flood Insurance, standard homeowner and business insurance policies.
The firm, whose New York base of operations is in Lido Beach, Long Island hopes to offer insight regarding daily insurance claim issues that arise from the storm damage as well as dispel some of the misinformation that naturally occurs with this type of catastrophe. For example; a recent post Seven Mistakes to Avoid With Your Hurricane Sandy Claim warned policyholders not to sign their claim rights over to contractors and also to make sure they received specific scope of work information or risk not getting reimbursed by their insurance carrier. "It may seem simple, but we have worked every major storm since 1984 and we see policyholders making the same mistakes over and over," stated Charles "Dick" Tutwiler, President of the firm who helps homeowners and businesses manage their insurance claim. Tutwiler reminds policyholders that emergency restoration work authorizations are contracts and if possible should be reviewed by an attorney. He has seen some policyholders successfully change work authorization forms to state that any payment for services must be approved by the insurance company. "Be very leery of work authorizations that assign insurance policy proceeds to restoration firms and use common sense. It's your insurance money, states Mr. Tutwiler. Once it's paid out you cannot go back for more."
Tutwiler hopes people will take advantage of the blog and take advantage of the firms experience in these types of situations. "We plan letting people know what is really going on in the claims arena on a day to day basis," stated Mr. Tutwiler.
About Tutwiler & Associates: Established in 1984, Tutwiler & Associates is a highly regarded, licensed public adjusting firm that represents commercial and residential property insurance policyholders in all property insurance damage claims. Tutwiler works exclusively for the policyholder to remove the stress of dealing with the insurance company and properly present their insurance damage claim to obtain a fair payment under the policy. Headquartered in Tampa, Florida Tutwiler is also licensed in New York with an office in Lido Beach, Long Island. They can be reached locally in the New York area at 516-415-1235 or toll free at 1-800-321-4488. http://www.publicadjuster.com