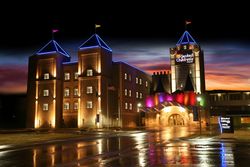 This new, 146-bed children's hospital provides a state-of-the-art environment tailored to children. From color schemes to artwork and physical structure, the entire five-story building has been designed to promote healing and improve outcomes
Sioux Falls, SD (Vocus) March 12, 2009
Sanford Children's Hospital welcomed patients Wednesday to its new pediatric hospital that is designed to look like a castle, inside and out. The patients moved from the existing pediatric unit located within the walls of Sanford USD Medical Center to the new, free-standing children's hospital affectionately called a "Castle of Care." Every detail within the new Sanford Children's Hospital has been designed with children and families in mind, from the castle-like exterior and interior, to the whimsical artwork and design details integrated throughout the entire building.
"This new, 146-bed children's hospital provides a state-of-the-art environment tailored to children. From color schemes to artwork and physical structure, the entire five-story building has been designed to promote healing and improve outcomes," stated H. Eugene Hoyme , MD, Chief Medical Officer for Sanford Children's Hospital.
Legend of Sanford Castle
Every floor within the hospital represents a different theme, building upon the fictitious characters introduced in "The Legend of Sanford Castle." This children's story and coloring book, written by Michael Green and illustrated by Sara Weingartner especially for Sanford Children's Hospital, will be given to every child upon admission. It describes animals found in five different lands around Sanford Castle.
Respectively, each of the five levels within Sanford Children's Hospital is modeled around each of these five lands, from hallways and ceilings to murals above every bed:

The Deep Blue Waters (lower level)
Rushing River Valley (ground floor)
Wide Windy Prairie (1st floor)
Land of Nez (2nd floor)
Enchanted Forest (3rd floor)
"Patients and visitors will know which theme they are entering once they step off the elevator and are greeted by animal murals from the respective land," added Jan Haugen-Rogers, Sanford Children's Vice President.
Unique Artwork
Aligned with the five different themes, artwork from local artists designed specifically for Sanford Children's Hospital adorns the hallways, ceilings and patient rooms throughout each floor. This original art collection includes:

40 treasure boxes located in the hallways and positioned at child height
Nearly 4,000 square feet of wall murals
150 original paintings and illustrations
100 pieces of artwork made by children in the community
601 ceiling tiles painted by former patients at Sanford Children's Hospital
Custom made tapestries, wood carvings, wooden thrones, stained glass and more
Child Focused
Sanford Children's Hospital also includes a storybook room, royal balcony and playrooms tailored to children. Each playroom has a castle with cut out windows, computer with internet access, equipment plug-ins built into the floors so children who require medical equipment are able to leave their rooms and a host of other items to help meet children's social and emotional needs while hospitalized. For older children, there is a teen room that doubles as a classroom for the hospital-based school program. The hospital's customized menu even includes items such as 'Fruits fit for a Queen.'
Family Centered
Designed with input from Sanford Children's Family Advisory Council, every patient room has a sleeping area for parents and curtain for privacy. Each floor also has a family welcome center complete with a kitchenette, computer stations with internet access, laundry facilities and showers. The intimate Everist Chapel features constellation patterns of 397 stars backlit against eight different lighting patterns, as well as three commissioned pieces of stained glass artwork from the Bogenrief Studio.
Highly Specialized Care and Technology
Sanford Children's Hospital is supported by a team of more than 60 pediatricians, including more than 40 who specialize in 20 different disciplines, as well as more than 150 Sanford Clinic family medicine physicians. These pediatric and family medicine physicians work closely with more than 350 pediatric-trained staff. On-site Child Life Specialists use play therapy to help children, both patients and siblings, understand and cope with their medical circumstances.
Technology in the "Castle of Care" includes a mobile radiology unit in the shape of a fire engine that is available to travel to patient rooms and a CT machine featuring a three-dimensional mural and painting to disguise medical equipment and provide positive distraction. The new hospital also provides on-site laboratory, nutrition, pharmacy, and physical medicine and rehabilitation for inpatients and outpatients.
Designated pediatric transport teams and a maternal-fetal transport teams are available 24/7 to respond to communities within the region of South Dakota, North Dakota, Minnesota, Iowa and Nebraska.
Sanford Children's Specialty Clinic
Sanford Children's Specialty Clinic is located on the ground floor of Sanford Children's Hospital, providing pediatric subspecialists in more than 20 disciplines. This clinic contains 38 exam rooms with a dedicated hematology/oncology area with five private infusion bays for pediatric cancer patients.
"This new free-standing building provides inpatient, outpatient and clinic services for pediatric patients and their families in a family-centered environment designed to meet the unique healing needs of children. A leader in children's healthcare for nearly a century, Sanford Children's will continue to revolutionize healthcare with this new facility," said Rich Adcock, Executive Vice President, Sanford Clinic.
About Sanford Children's Hospital
A part of the Sanford Health system, Sanford Children's Hospital provides the highest level of pediatric care in its region. Located in Sioux Falls, SD, the 146-bed Sanford Children's Hospital includes 76 general pediatric beds, 58 neonatal intensive care beds and 12 pediatric intensive care beds. The new building also serves as a home base for several new pediatric clinics to be built around the world in the next ten years. For more information, visit http://www.sanfordchildrens.org . For a complete media kit with photos, click here.
Contact:
Stacy Bauer Jones
Media Relations Coordinator
(605) 366-2432
(605) 328-7056
# # #