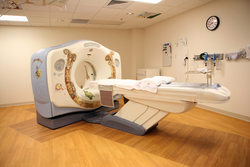 Although available to adults and children alike, this new technology is especially groundbreaking for children and young adults whose cells pose some differences when compared to adult cells
Sioux Falls, SD (Vocus) June 19, 2009
Sanford Children's Hospital is the first children's facility in the nation to offer new CT technology to patients that significantly reduces a child's radiation exposure during a CT scan. The new Adaptive Statistical Iterative Reconstruction (ASIR) technology works with GE's 64-slice CT scanner to reduce radiation levels by 30-40 percent while still providing quality images. Prior to adding the technology, Sanford Children's physicians and radiologists were already manually reducing radiation levels by 30 percent. Combining ASIR with these Sanford protocols means around a 60 percent reduced exposure to patients compared to the original CT scanner.
"Although available to adults and children alike, this new technology is especially groundbreaking for children and young adults whose cells pose some differences when compared to adult cells," said Charles P. O'Brien, MD, President, Sanford USD Medical Center and Sanford Children's Hospital. "Children and young adults' cells are dividing rapidly, which makes them more vulnerable and susceptible to harm. With this new technology, we can administer just the dose needed to achieve quality images."
Not only will this new technology be located with the 64-slice CT scanner in Sanford Children's Hospital, but also with the 64-slice CT scanner in Sanford's emergency department, Trauma 5. A CT scan, also called computerized tomography or just CT, is an X-ray technique that produces internal images in cross section rather than the overlapping images typically produced by conventional X-ray exams.
"We believe in 'imaging gently' to achieve quality images," added O'Brien. "Having this technology in two locations is another example of the quality investments Sanford Children's makes for the future and health of our young patients."
ASIR is a new, advanced reconstruction technique that reduces image noise and improves low contrast detectability and image quality. This technology produces an enhanced image and scan and a reduced radiation dose to patients, providing improved patient care.
About Sanford Children's Hospital
Designed like a castle, Sanford Children's Hospital provides the highest level of pediatric care in its region. A part of the Sanford Health system and located in Sioux Falls, SD, the 146-bed Sanford Children's Hospital includes 76 general pediatric beds, as well as 58 neonatal intensive care beds and 12 pediatric intensive care beds, all in private family suites. With more than 200 pediatric and family medicine physicians and more than 350 pediatric-trained staff, Sanford Children's provides inpatient, outpatient and clinic services for pediatric patients and their families in a family-centered environment designed to meet the unique healing needs of children. A leader in children's healthcare for nearly a century, Sanford Children's will continue to revolutionize healthcare with this facility, as it will serve as a home base for several new pediatric clinics to be built around the world in the next ten years. For more information, visit http://www.sanfordchildrens.org.
About Sanford Health
Based in Sioux Falls, SD, Sanford Health's comprehensive, integrated system includes nearly 440 providers in 128 clinic and satellite clinics. It also includes 23 hospitals, 12 nursing homes, 18 assisted living facilities and congregate living locations, 27 home health services and 19 pharmacies. With more than 10,000 employees, Sanford Health is the largest employer in the region. Its primary, 500-bed nonprofit tertiary care hospital in Sioux Falls, SD, serves an average of more than 50,000 inpatients annually. With more than 1.25 million outpatient visits each year, Sanford Health has served the 80,000 square mile, five-state region of South Dakota, Iowa, Minnesota, Nebraska and North Dakota for more than 110 years. Sanford Health is the largest healthcare system between Denver, CO and Mayo Clinic in Rochester, MN. Its divisions include Sanford USD Medical Center, Sanford Clinic, Sanford Health Network, Sanford Health Plan and Sanford Health Foundation. For more information, visit http://www.sanfordhealth.org.
More information also available at http://www.sanfordhealth.org/Newsroom/NewsDetail13746.cfm?Id=0,1250
Contact:
Stacy Bauer Jones
Media Relations Coordinator
(605)328-7056
# # #