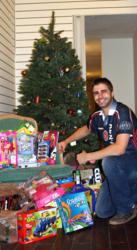 Medical cannabis is not the big moneymaker everyone thinks it is, but it is important for us to help our greater community as well as the cannabis community...
San Francisco, CA (PRWEB) December 21, 2011
Shambhala Healing Center, a San Francisco medical cannabis dispensary, donated 100 toys to the Fireman's Toys For Tots Program last Thursday. Shambhala kicked off the this years holiday with a 100 Thanksgiving turkey giveaway at its Mission Street location on the eve of Thanksgiving. Passers-by, locals, and members were all invited to take a turkey home for the holidays. The Shambhala team is hoping to continue to be a positive member of the community throughout the year with regular donations to various organizations.
For Shambhala and several other dispensaries, the season of giving never stops. Shambhala will continue in their good works by offering affordable cannabis programs for patient-members and donations to community organizations such as the Mission Dance Center. As time goes on, the public will see how medical cannabis and the dispensaries that make medicine safely available to their patients can become a positive and important part of our community.
ABOUT
One of San Francisco's newest medical cannabis dispensaries, the Shambhala Healing Center opened its doors in January 2011. Shambhala Healing Center is a not-for-profit San Francisco medical cannabis cooperative specializing in affordable, top quality, lab-tested cannabis medications. Any profits gained are reinvested into the organization or donated to the surrounding community.
###