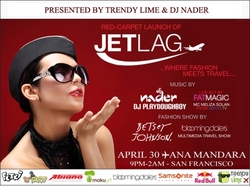 San Francisco, CA (Vocus) April 22, 2010
Producer of upscale social events, Trendy Lime, announces its newest series of chic parties - "JETLAG" – a social club for trendsetters and world travelers. JETLAG brings together professionals, trendsetters, and world travelers in the most chic venues of San Francisco for an evening of networking, socializing, and great music. It will combine Fashion, Photography, Travel, and Good Cause. JETLAG's inaugural cause will be the fight against climate change. In the spirit of trendsetters and climate change, attendees will be able to recycle used cellphones via PlantMyPhone to fund the planting of trees in deforested regions of our planet.
WHERE FASHION MEETS TRAVEL
Join San Francisco trend-setters and world travelers for the Red Carpet launch of JETLAG on April 30th! The 1st edition of JETLAG will combine Fashion and Travel theme, complete with a live fashion show by world renowned designers and Red-Carpet photo-shoot, and will suit the most discerning tastes. We will celebrate diversity and world travel in the Marina district of San Francisco, in the magical Ana Mandara with its Vietnamese inspired multi-tier décor.
"First-Class" Program for April 30th:
-Fashion Line-up: Betsey Johnson, John Varvatos, Hugo Boss, Marc Jacobs, Paul Smith
-Performing live FATMAGIC
-DJ Nader
-DJ Playdoughboy
-Multimedia Travel Show by world traveler Art Gimbel
-"PlantMyPhone" by Mokugift: bring an old cell-phone, plant a tree, and have a chance to win $1,000
-Win a 3-hr Limo ride in a stretch limousine by Abiano
-MC Meliza Solan, Vator.tv
-Delicious appetizers courtesy Ana Mandara between 9-10 pm
Admission:
$5 before 11 pm with RSVP at http://jetlag.eventbrite.com/, password JETSET
Dress code: chic & elegant!
Sponsors: Red Bull, Bloomingdale's, Samsonite Black Label, Abiano, SF Party, Fotki.com.
About Trendy Lime:
Trendy Lime (http://trendylime.com) is defining the standard in classy, exclusive events for trend-setters in prime venues of San Francisco. It is a social network enterprise focused on building a community of like-minded, professional, and influential people. Our international social network of successful Bay Area professionals, who engage in adventurous and luxurious lifestyle, is over 2,000 members strong. Over half of our members have a masters or doctorate degree, 4 out of 10 members speak 3 or more languages, and most have professional careers in High Tech, Finance, Law, Marketing, Media and Fashion. Trendy Lime is truly international – with members from 5 continents and over 20 countries. We actively engage with Social Media and benefit from an extensive network of prominent bloggers and influencers.
We produced over a dozen successful events in San Francisco' prime venues including Harlot, Temple, Sugar Café, and Ana Mandara. Trendy Lime signature event, Digital Summer, drew 800 fashion and technology-oriented individuals to "Temple" in August 2009 and featured technology demos from HP and Intel, a fashion show of Bono's fashion line Edun, as well as photo-shows of 944 Magazine photographers.
About DJ Nader:
Michael Nader, the Co-Founder of Feel Group, is the owner of several successful San Francisco establishments including Harlot and Morac. He is also a renowned DJ, who published many CDs and participated in the biggest events in San Francisco and around the US.
About Mokugift:
Mokugift is the official partner of Billion Tree Campaign by the United Nations Environment Programme. At Jetlag, Mokugift will be showcasing the "PlantMyPhone" program, where every used cell-phone that attendees bring to the event for recycling will fund the planting of at least one tree. Participants have a chance of winning $1,000. For more information about PlantMyPhone, please visit http://plantmyphone.com/?adid=TL1
# # #