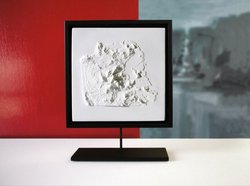 San Francisco: A Certain Style
San Francisco, CA (PRWEB) September 29, 2009
Those who love San Francisco now have an opportunity to own a piece of the terrain, created by one of the city's most influential designers.
For the first time, California Home and Design Magazine is asking the public to vote on the top 10 California designs for an October feature they are calling "The Hit List". San Francisco Terrain is a leading contender for the final cut and one lucky Facebook fan will receive the work of art as a gift just in time for the holidays.
San Francisco Terrain is a 10" x 10" gypsum relief map depicting the topography of the City. Unique in its conception and presentation, this work of art has been embraced by the City and collectors everywhere. In 2008, the San Francisco Mayor's Office of Protocol chose the piece as a gift to visiting dignitaries. Jack Hirschman, San Francisco Poet Laureate, calls the piece an artistic celebration and paean to the beauty of the city and Poet Laureate Lawrence Ferlinghetti responded when presented as a gift, "What a relief."
More than a map, San Francisco Terrain is a visual expression of texture and the changing effect of light experienced in the city. It reminds us of the place lodged in our heart and we long to soon return. One perceives mountains, valleys and the edges of a continent that float in a milky galaxy. The terrain appears familiar, like a memory, like a vision, a dreamy perspective on the unique character of America's most romantic city.
Seven x seven square miles of inspired domain is "San Francisco Terrain".
How to win:
First, visit California Home Design and vote for #32 "San Francisco Terrain". Voting ends on September 30 so vote now!
VOTE NOW
Then, go to the "San Francisco Terrain " Facebook fan page and become a fan. That's it. No forms to fill out or lists to join:
"San Francisco Terrain" Facebook Fan Page
When the winners are announced, one lucky Facebook fan will be chosen at random to receive "San Francisco Terrain" as a thank you gift for voting.
Conor Fennessy Antiques and Design
801 Columbus St.
San Francisco, CA 94133
(415) 673-0277
http://www.SanFranciscoTerrain.com
http://www.ConorFennessy.com
About Conor Fennessy
Over the past twenty-five years, Fennessy's design projects have ranged from prominent townhouses and mansions in Pacific Heights, to quaint apartments on Russian Hill. As a designer, Fennessy does not tiptoe around a project; rather, he designs using a palette of bold colors, architectural elements, and a trove of antiques to bring gusto and panache to each and every assignment.
His work has been highlighted in numerous design publications and Fennessy's own apartment was featured in Diane Dorrans Saeks' books, "San Francisco: A Certain Style" and "Living Rooms: California Design Series"
San Francisco Magazine awarded Conor Fennessy's gallery "The Best Place to Find Rare Objets d'Art." Located in historical North Beach, it is an intoxicating cocktail of design inspiration that draws the eye of all who pass its broad, street level windows on Columbus Avenue. Here, he showcases his discoveries in striking tableaus that are as much a lesson in contrasts as in the art of editing fine objects.
Media Contact:
Leo Madrid
415.515.3264
###