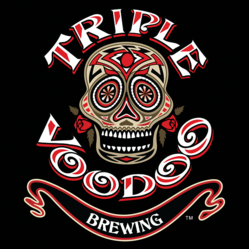 Triple Voodoo will be all over the Bay Area this year...
San Francisco, CA (PRWEB) January 28, 2012
The 2012 SF Beer Week schedule is already creating a buzz as Bay Area beer lovers get a glimpse of what local microbreweries and nanobreweries are rolling out this year. Triple Voodoo Brewing will be working its magic on craft beer enthusiasts at many events by introducing three new beers, their limited-release Belgian-style brew, Triple Voodoo Grand Cru and two collaboration brews with other distinguished local beer makers.
"We will be all over the Bay Area this year, starting at the Opening Celebration at the Concourse Exhibition Center on the 10th, moving on—quite literally—to the traveling party we are hosting with Golden Gate Brewery Tours, and ending at the Tap Take Over at Fireside Lounge in Alameda on Saturday the 18th," said Greg Kitchen, one of three founders of Triple Voodoo Brewing Company.
The San Francisco beer maker's latest innovation, the Triple Voodoo Brewing Grand Cru, will debut at the Opening Celebration. Grand Cru is brewed Belgian-style with honey and blue agave nectar added in the final boil and spiced with coriander and orange peel to give it an out-of-this-world flavor profile. The title Grand Cru is reserved to distinguish a brewer's finest offering.
In addition to the Grand Cru, Triple Voodoo will be serving two collaboration beers during SF Beer Week. The first is a joint venture with Knee Deep Brewing out of Lincoln, California. Knee Deep master brewer Jeremy Warren and Triple Voodoo master brewer Devin Stephens will surprise guests with a new creation—a journey into new territory that combines what's best of Belgian White and California IPA.
The second collaborative brew is now being conceived in a multi-collaborative effort called the Kaleidoscope Project. Spearheaded by Devil's Canyon owner and master brewer Chris Garrett, the concept of Kaleidoscope is to create a unique style of beer from the unique ideas of all the brew masters that brew at Devil's Canyon. Some of the participating breweries include Triple Voodoo Brewing, High Water Brewing, Pacific Brew Labs, and Golden Mongoose.
TRIPLE VOODOO SF BEER WEEK 2012 SCHEDULE
Friday February 10th
6 pm to 10 pm Opening Celebration at the Concourse (San Francisco)
Saturday February 11th
11 am to 7 pm Double India Pale Ale (DIPA) Festival @ The Bistro (Hayward)
1 pm to 8 pm Triple Voodoo/Golden Gate Brewery Tours Beer Week Bus (San Francisco)
6 pm to 9 pm Triple Voodoo Tap Takeover @ Rosamunde (San Francisco)
Sunday, February 12th
1 pm to 4 pm Beer Garden on the Patio @ Pete's Brass Rail and Car Wash
3 pm to 6 pm Knee Deep/Triple Voodoo Collaboration Release Party @ Lucky 13 (San Francisco)
Monday, February 13th
6 pm to 9 pm Triple Voodoo Tap Takeover @ The Sycamore (San Francisco)
Wednesday February 15th
6 pm to 9 pm Triple Voodoo One Year Anniversary Party @ Church Key (San Francisco)
Thursday February 16th
7 pm to 10 pm Beer Pairing Dinner @ Locavore (San Francisco)
Friday February 17th
5 pm to 10 pm Kaleidoscope Event @ Devil's Canyon (Belmont)
Saturday February 18th
6 pm to 9 pm Triple Voodoo Tap Take Over @ Fireside Lounge (Alameda)
(This is a preliminary schedule, and events, dates, and times are subject to change without notice. Please check in at http://www.sfbeerweek.org to stay abreast of developments.)
One of the highlights of SF Beer Week this year will occur on Saturday, February 11 when Triple Voodoo and Golden Gate Brewery Tours take passengers on a sudsy tour of top SF Beer Week events. A safer and saner alternative to drinking and driving, guests will sample Triple Voodoo beers, while rocking out to a live DJ and being showered in free souvenirs. The $29 admission to the tour does not include food at the various venues.
A luxury tour bus will pick up passengers in San Francisco at around noon and take them on a brewery tour that includes stops at a barbeque at the internationally acclaimed Double IPA Festival at Bistro Bar on charming "B" Street in Hayward, the Anderson Valley Release Night at Pi Bar in San Francisco, and sausages and Triple Voodoo's latest releases at Rosamunde Sausage Grill at 2832 Mission Street, near the 24th Street BART Station.
For more information about SF Beer Week 2012 or any of Triple Voodoo Brewing's products, please call (415) 598-8811 or visit them on the web at http://www.triplevoodoobrewing.com.
About Triple Voodoo Brewing
Triple Voodoo Brewing is a San Francisco Bay Area craft brewery that is dedicated to three unwavering principles: a passion for creating the extraordinary, a desire to share those creations with the world, and an ultimate goal to help make the world a better place for everyone.
The name is symbolic of the shared vision of the three original founding partners and their passion for conjuring magic in every glass.
# # #