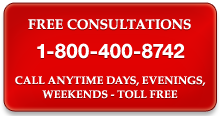 We decided to launch this new site because there is a real lack of resources available to people who are being violated at work
San Francisco, CA (PRWEB) May 17, 2013
San Francisco discrimination lawyers at Scranton Law Firm are now helping employees of companies by offering them access to their new employee rights hotline website. The new website is dedicated to educating people in San Francisco about employment law matters such as sexual harassment, wrongful termination, wage & hour law and discrimination. People who have been having problems with their employer in San Francisco are invited to visit the site to learn whether or not they may have a case. The new site can be found at EmployeeRightsHotline.com.
"We decided to launch this new site because there is a real lack of resources available to people who are being violated at work. In addition to the new website we are also offering a no cost hotline where people can speak with an experienced wrongful termination lawyer in San Francisco, or an employment attorney that handles their particular type of case," says Dalton on Scranton Law Firm.
In addition to serving San Francisco the Scranton Law Firm is also an experienced Los Angeles wrongful termination law firm. "We have the resources to help people all across California with issues ranging from wrongful termination to sexual harassment. We offer people the chance to speak with an actual lawyer through the hotline to help them determine whether or not they may have a case," says Dalton.
According to Dalton the landscape for Oakland employment lawyers is always changing. He points out that while many people may have hostile feelings toward their former employer that doesn't necessarily constitute wrongful termination. "The main criteria for determining whether or not somebody has a case is to figure what laws may have been broken. Additionally we also explore company policies to determine if those were broken as well."
Sacramento sexual harassment lawyers at Scranton Law Firm are vigorous advocates for employees who have had their rights violated. "If somebody at work is making another person feel uncomfortable by making unwelcome sexual advances we can help. Our employment lawyers are sensitive the needs of our clients and we understand that unwanted advances are not the fault of the victim," says Dalton. Scranton Law Firm helps victims of sexual harassment in San Francisco by filing lawsuits to obtain settlements on their behalf.
Their employment lawyers in San Diego also specialize in wage, hour and overtime law. If a person works for a company they are entitled to meal and rest breaks such a time to eat or sit down. Employees are also entitled to overtime pay if they work more than eight hours in a day. "When people are denied meal and rest breaks it is a serious situation. We speak with the victims for no cost when they call the hotline to determine whether or not any California labor may have broken.
To learn more about the San Jose wrongful termination lawyers at Scranton Law Firm please visit the new website or give them a call. People are also invited to watch their informative online videos and to read their many positive online law firm reviews. Press releases are also available online concerning sexual harassment and wrongful termination.