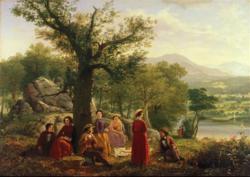 It's always exciting to have a fresh project, especially one that allows me such creative freedom.
San Francisco, CA (PRWEB) March 08, 2012
The artistic floral arrangements of Kaori Imaizumi, owner and designer of Blooming Floral Design in San Francisco, will be featured in the Bouquets to Art exhibit at the de Young Art Museum in Golden Gate Park from March 13-17. The five-day celebration of spring will showcase 150 floral exhibits interpreting works of fine art from the de Young Museum's permanent collection. The event, now in its 28th year, is a benefit for the Fine Arts Museums of San Francisco.
"It's always exciting to have a fresh project, especially one that allows me such creative freedom," said San Francisco florist Imaizumi. "The versions of my bouquets I get to make for Bouquets to Art don't look like my typical arrangements that I usually create in my shop."
Imaizumi, a certified member of the American Institute of Floral Designers (AIFD), is known for her meticulously crafted Sogestsu Ikebana and European contemporary floral artwork styles. This year, the award-winning Bay Area florist will design an arrangement to complement "Recreation," a landscape painting from 1857 by Jerome Thompson in Gallery 23.
"This event gives me the chance to push myself to create something surprising that I hope will leave a lasting memory with the people who see it," explained Imaizumi. "I'll be using unique materials and techniques that really accentuate the relationship between the art and flowers."
This is the sixth year she has designed floral arrangements that highlight works of art at the de Young Museum. Her entry for the Bouquets to Art exhibit in 2011 was a flower design complementing "Niagara River at the Cataracts," by California painter Gustav Grunewald. Photos of both that arrangement and her floral design for "Mother Nature," by Chiura Obata in 2007 have been added to the book "Bouquets to Art at the de Young Museum" by Pamela J Holt and her display from 2010 for "Mantelpiece of Thurlow Lodge in Menlo Park" can be found on the highlight reel on the Bouquets to Art website.
The hours of the Bouquets to Art exhibit will be from 9:30 am to 5:15 pm March 13 to 17, with extended hours on March 16 until 8:45 pm. The de Young Museum will host a members-only night on March 14 and 15, from 6 to 8 pm. Tickets are available online at http://www.bouquetstoart.org, by phone at (415) 750-3504 between 10 am and 3 pm Monday through Friday, or in person at the de Young Museum box office. The box office is closed on Mondays.
Advanced ticket prices are $20 for adults, $17 for seniors 65+, $16 for students with a current ID, $10 for youths (6-17), and free admission for children 5 and under. Day-of-visit admission ticket purchases include an additional $5 surcharge and can only be purchased at the museum. Members of the de Young Museum receive free admission and do not need to make advance reservations.
The Bouquets to Art exhibit will also feature a floral demonstration program, lunch and afternoon tea events, and a benefit drawing to win one of six luxury prizes. A special gift shop for unique gifts, books, stationary, and decorative accessories will carry mementos that celebrate Bouquets to Art.
For more information about Kaori Imaizumi's displays at Bouquets to Art, or for other floral services by Blooming Floral Design, call (415) 263-9897, visit their website at http://www.bloomingfloraldesign.com, or come to their flower shop located at 2120 Sutter Street, San Francisco, CA 94115.
About Blooming Floral Design
Blooming Floral Design is a San Francisco florist that specializes in bridal bouquets and stunning floral arrangements for weddings, special events, and funerals. The San Francisco flower shop contains beautiful fresh flower arrangements, silk flowers, bonsai specimens, Ikebana tools and supplies, and Japanese floral books.
Owner Kaori Imaizumi, an accredited member of the American Institute of Floral Designers (AIFD), specializes in European Contemporary and Sogetsu Ikebana styles. Awards for her designs include: the American Institute of Floral Designers People's Choice Awards, San Francisco Garden Club Eastwood Awards, and the Kund Nielson Dried Design Awards. Kaori also holds a Sogetsu Ikebana certification.