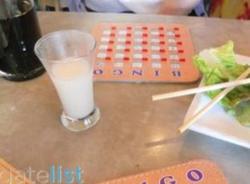 What really surprises our guests is how well BINGO goes with our California rolls and a bottle of sake.
San Francisco, CA (PRWEB) September 06, 2011
Those who dread the same old happy hour specials at their usual post-work drinking spot have reason to cheer, because Ace Wasabi Rock-N-Roll Sushi is breaking up the monotony with Happy Hour BINGO. Guests of the fashionable Marina sushi restaurant love the excitement—especially when they win some of the fabulous prizes.
"Whether they admit it or not, everyone loves playing BINGO. It's fun and a great way to cap off the end of the day." said Ken Lowe, owner of Ace Wasabi's Rock-N-Roll Sushi. "What really surprises our guests, however, is how well bingo goes with our California rolls and a bottle of sake."
Ace Wasabi's happy hour is held weekdays between 5:30pm and 7pm and features specials that include $2, $3 and $4 hand rolls. The San Francisco sushi restaurant also offers their signature Tokyo Trio, which includes a draft beer, hand roll and Nigori sake shot for just $7.
Keep in mind this is not grandma's style of BINGO. At Ace Wasabi, patrons share their game of BINGO with other young and successful sake-sipping techies. It's free to play, and the winner receives a $20 certificate. Monday through Friday at 6:30, it's an entreprenerdial crowd-pleaser.
San Franciscans who enjoy sushi in the Marina District say Ace Wasabi has one of the best San Francisco happy hour s because of the added bonus of an exciting game of BINGO. One Yelp reviewer recently wrote: "Get there early and play BINGO at 6:30. No joke. When I yelled out BINGO I just thought I'd get a pat on the back. Didn't realize I'd be getting a $20 gift certificate!"
Over the past 15 years, Ace Wasabi has given away over $78,000 worth of gift cards.
This classic sushi restaurant in San Francisco was also mentioned on The Best of Craigslist, in a post entitled, "You know you're a Marina chick when…you've won BINGO as Ace Wasabi."
For more information about BINGO at Ace Wasabi's Rock-N-Roll Sushi, call (415) 819-8477. To make reservations, call (415) 202-5687 or visit them on the web at acewasabisf.com.
About Ace Wasabi
Established in 1995, Ace Wasabi is a San Francisco sushi restaurant that specializes in imaginative maki rolls and hugely popular dishes like their signature seared albacore tataki. Ace Wasabi is home to San Francisco's first sake bar.
The San Francisco Chronicle says the Marina sushi restaurant is "improving on a classic"; the New York Times calls Ace "the Marina hot spot"; USA Today says the "cool crowd catches on to the real raw deal"; and MSN added, "Ace offers some colorful twists to the standard sushi menu."
###