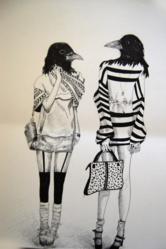 San Francisco, CA (PRWEB) January 26, 2012
During the next two weekends, the City's favorite place to shop for smart and fashionable urbanwear will showcase a host of Bay Area artists at their mid-winter festivities collectively called Tour de FuNk. The San Francisco eco-friendly clothing store invites everyone to bring it on down to Skunkfunk to support this fresh collection of emerging local talent, and reward themselves with 50% off original prices on Skunkfunk fashion.
Tour de Funk gets rolling this Friday, January 27 at Skunkfunk's Mission District store, located at 302 Valencia Street, with an exhibit of select works by mixed-media artist Carmen Solis. From 6 to 9 pm, gypsy-jazz-punk collective Cyclub will lay it on, and have everyone in the store moving their juNk to their awesome fuNk.
At this special art show, Solis will present her latest work—a series that examines the way society incorporates animal patterns and prints into clothing and accessories. Influenced by Kafka's story "Metamorphism" and Max Ernst's "Fatagagas," Solis portrays animals in highly humanistic states.
Cyclub has just returned from an intense tour of Japan, and is looking forward to kicking things up at Skunkfunk before the launch of their upcoming world tour. The talented musical group is a jazz-psychedelic-rock band that formed in the UK after band members Adam, Sam and Simon saw Junko play as Cyclub in Camden.
The second half of Tour de FuNk takes off Saturday, February 4th at 1475 Haight Street with an exhibition of works by two Bay Area fine artists: Kate Daly and Hugo Avianto. A special live musical performance by Repeat After Me will come on at 1 pm to get the intimate Skunkfunk crowd excited and tails thumping.
Art lovers are in for a fun ride at this art show. Inspired by mankind's relationship with nature, San Francisco fine artist and illustrator Daly's paintings often depict a strong and calm woman with nature living on her body, while showing man-made objects with the casual disregard man often exhibits towards nature. Her exhibit paintings will depict the fusion of the woman form and nature.
Avianto's work is quite different. Avianto has been painting since he immigrated to United States from Indonesia in the fall of 2005, and although he is mainly a portrait painter, Skunkfunk will showcase a collection of his work, including several of his serene landscapes.
The musical act, Repeat After Me (R.A.M.) will show guests why the band is a local favorite at lively venues like Bottom of the Hill, Hemlock, and Café du Nord. The band formed in Oakland in 2010 after childhood friends Rob Kassees (lead vocals/rhythm guitar) and Tom Monaghan (bass and vocals) hooked up with Bay Area rock veterans Aaron Levin (drum/vocals) and Eric Murriguez (lead guitar/vocals), and they bonded over their shared love of '70s rock and classic songwriting.
R.A.M.'s new album, "From the Mountaintop," can be previewed and purchased on Bandcamp. Vinyl records and digital download codes can also be purchased at both San Francisco Skunkfunk locations.
The Haight location is also hosting a huge sales event starting on this date, featuring classic styles from Skunkfunk's past collections for a very limited time. All items are priced at up to 50% off original prices.
Skunkfunk (http://www.shopskunkfunk.com) is a Manhattan and San Francisco clothing store that offers urbanites eco-friendly fashion, including convertible clothing that can be instaly redesigned for different occasions. The Spanish-born purvey of fine clothing is applauded for their eco-friendly fabrics and ethical distribution practices that harmonize with the environment.
Skunkfunk works hard to bring positive change to three areas of their fashion industry: people, planet and prosperity. Textiles are carefully chosen based upon their impact to the environment, and include recycled polyester, organic cotton, and Lyocell.
RECYCLED POLYESTER
Polyester comes from crude oil, a natural scarce resource with a low renewability ratio. Recycled polyester is processed in a less energy intensive way than creating virgin fibers, and it's a perfect option to give a second life to post-industrial remains or post-consumer plastic waste.
ORGANIC COTTON
Organic Cotton is a natural fiber cultivated without the use of synthetic chemicals, such as pesticides or fertilizers, and is not genetically modified.
LYOCELL
Lyocell is a light and silky textile made from regenerated cellulosic fiber that comes from eucalyptus wood pulp. The biodegradable fiber is extracted under a sustainable closed-loop process that saves energy.
For more information about Tour de FuNk or any of Skunkfunk's products, call (415) 692-7678, go to http://www.shopskunkfunk.com, or visit one of their three stores located at 1475 Haight Street (Haight-Ashbury) and 302 Valencia Street (The Mission) in San Francisco or 181 Orchard Street (SoHo) in New York City.
About Skunkfunk
Skunkfunk is a Spanish-born New York and San Francisco clothing store that specializes in environmentally-friendly women's, children's and men's clothing. Skunkfunk has stores in San Francisco, New York City, various European cities and online. Their clothing is also sold in multi-brand stores throughout the United States.
# # #