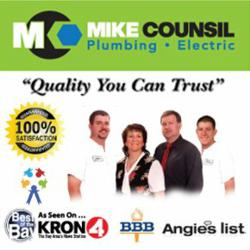 Pelican filtration systems give your family better than bottled water quality through every tap in your home.
San Jose, CA (PRWEB) May 28, 2012
San Jose's Mike Counsil Plumbing & Sewer Inc. has established itself as a leading and reliable provider of plumbing services for the San Jose, Los Altos, Mountain View, Sunnyvale, Campbell and surrounding areas. This Santa Clara County Plumbing Company employs knowledgeable, licensed plumbers to ensure that every plumbing and sewer job is done right the first time.
Over many years of quality, professional service, Mike Counsil Plumbing, Rooter & Sewer Service of San Jose has acquired the ability to quickly and accurately diagnose any and all plumbing work that needs to be done. This makes it possible for this San Jose Plumber to provide customers with a realistic and fair estimate before any service gets underway.
At San Jose's Mike Counsil Plumbing & Sewer Inc., we hear a lot of questions about plumbing, rooter, sewer, drain and water heater issues from clients in the San Jose, Santa Clara, Los Altos, Campbell and surrounding areas. San Jose Plumbers at Mike Counsil are more than happy to answer any questions about No Salt Water Softener Services, Hydrid Tankless Water Heater Services, Drain Cleaning Services and other plumbing or sewer services. The goal of this San Jose Plumbing Company is to continue to provide excellent service and cutting edge plumbing, sewer and water heater products. The newest product line is a 100% green Pelican NO salt water filtration system.
San Jose Plumbers at Mike Counsil have found that most responsible people who value the health of their family, also believe in protecting the home. Homeowners have planned for potential problems from storm damage to security and theft protection. Allowing everyone to sleep safely at night knowing the family is safe and the home secure. Nobody would open the front door and let a stranger walk right into their home or open the windows and allow noxious fumes to enter should there be a toxic spill in the yard.
Consider that many people have not given any thought to the water that enters a home. Each person serviced by the municipal water supply is at the mercy of whatever is in that water. Unless one has a premium point of entry (P.O.E.) water filtration system, the water supply may contain any number of contaminates. Each city water treatment facility must use chemicals to "treat" or "kill" bacteria that is in the water supply before it is safe for human consumption. The most common chemical used to kill bacteria is chlorine. The second most common is chloramine (chlorine plus ammonia).
One must consider that with each bath, each shower, each time someone washes vegetables before cooking, the chlorine is rapidly absorbed through everyone's skin and the skin of the vegetables. That is both alarming and easily preventable.
San Jose's Pelican Water Systems is the fastest growing, truly eco-responsible whole home water solutions company in the country. They specialize in premium whole house salt free water softening/conditioning and filtration giving your family better than bottled water quality through every tap in your home. No electric, no salt bags, not a drop of wasted water and virtually zero maintenance, and the Pelican Whole House System protects all plumbing and appliances from the damage effects of hard water and scale.
Call your authorized San Jose Pelican Dealer now to learn more about this great 100% green product and receive an instant rebate up to $500, with installation or visit Plumbers in San Jose, CA to learn more about "pelican-izing" the whole home and having better than bottled water from every tap in your home. California's Bay Area Pelican Dealer is Mike Counsil Plumbing and Electric in Santa Clara County.
Mike Counsil Plumbing San Jose
1915 O'Toole Way,
San Jose, CA 95131
408-217-0664
Mike Counsil Plumbing Los Altos
171 Main Street #177,
Los Altos, CA 94022
(650) 627-7566
Mike Counsil Plumbing Fremont
4444 Hansen Avenue
Fremont, CA 94536
(510) 574-0456