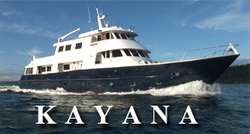 The ship was wonderful! What a sweet spirit she has. Thank you. You have helped us laugh, learn and live as a family.
Seattle, WA (Vocus) May 29, 2010
Seattle-based CEO Expeditions, http://www.ceoexpeditions.com, has announced that their 123' mega yacht, the Kayana, will be available for charter in the San Juan Islands for the summer of 2010. The San Juan Islands, a chain consistently rated among the top ten island groups in the world, have gained notoriety in recent travel publications and due to the proximity to locations mentioned in the Twilight series.
Recent guest Glenn Beck, who cruised on the Kayana in the San Juan Islands recently, said "The ship was wonderful! What a sweet spirit she has. Thank you. You have helped us laugh, learn and live as a family."
The Kayana is a world class mega yacht, both beautiful and inviting with a richly appointed salon, elegant dining room that can accommodate a group of 14, six luxurious staterooms that includes two master suites, a bonus or exercise room, media room, and spacious deck areas. The yacht was designed by one of Europe's most famous designers, Jon Bannenberg, and was constructed to Lloyd's highest specifications by Vosper ThornyCroft, one of England's most respected ship builders. She was built strong enough to cross the Atlantic on her own hull, with a full size Lincoln Continental on top! This makes her an ideal luxury expedition yachting vessel, capable of going anywhere in the world. In 2001, she was purchased by CEO Expeditions, and has undergone several refits, the final in 2008. This refit added a new third deck, creating the Sky Master Suite with an 180' view through the expansive windows, a large media center, Sky Lounge, expanded dining areas, and updated all the common spaces.
The warmly finished interior is complete with beautiful furnishings, art, and antiques and the outdoor areas are amazing with a mix of large and small spaces for guests to gather and enjoy. The aft deck is a spectacular work of art, finished in teak with matching furnishings and the bow area is ideal for private sunning. From the large tenders to transfer to shore, fish, or for sightseeing, to the kayaks, scuba gear, windsurfers, fishing gear and tackle, hot tub, to the media room and extensive media collection, guests of all ages and activity levels enjoy the amenities of Kayana.
For more information or to reserve a week, e-mail or call Gina Stanhope today at info(at)ceoexpeditions(dot)com, 425-460-4100. A full itinerary and price sheet are on the website at http://www.ceoexpeditions.com.
About CEO Expeditions
Seattle, Washington based CEO Expeditions operated their first private yacht charter in 2000 after their inception in 1999. Their mega yachts, the 100' Katania (Burger) and 123' Kayana (Vosper-Thornycroft) cruise Pacific Northwest and Mexico. For San Juan Islands Cruise and more information, visit http://www.ceoexpeditions.com.
# # #