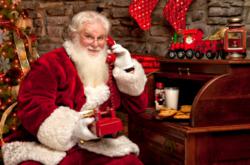 Jupiter, FL (PRWEB) December 17, 2011
Children all across the United States have been eagerly keeping an eye on Santa trackers and receiving free calls from the jolly old Christmas character, Santa Claus. In an effort to spread some holiday cheer this Winter, DialMyCalls launched their Santa Calls last week and the response has been absolutely stellar – they have sent out close to 2,000 free, personalized greetings in less than a week!
"When we launched our free calls from everyone's favorite Christmas character, Santa Claus, we didn't expect to receive such a great response" says owner David Batchelor. "Since we started, we have sent close to two thousand calls from Santa to children across the United States – simply amazing!"
Parents have been given the ability to send children a personalized call from Christmas's most loveable character, Santa Claus. Santa Calls that are scheduled through DialMyCalls are absolutely free of charge and will be available through Christmas day, December 25, 2011 at 3PM EST. Adding an additional "Wow" factor into the mix, when the call comes through on your phone, it shows up as the "North Pole" calling on the caller id!
Join in on the fun this Christmas season with DialMyCalls' free Santa Calls! Light up the faces of children across the country when they receive an extra special gift from Christmas's favorite character, Santa Claus!
About DialMyCalls
DialMyCalls.com has become an extremely popular voice broadcasting company since its inception in 2006. Over the past couple of years the company has vocalized their commitment to offer members with the best quality mass notification system at an affordable price. With their growing success, they decided to give back this Holiday season by spreading some cheer with their free Santa Calls.
For more information, please visit http://www.dialmycalls.com or call 800.928.2086. You can also email tims(at)ontimetelecom(dot)com for additional information.
###