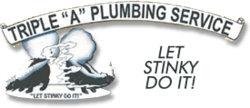 If you have low water pressure you may need to speak with an experienced Santa Clara copper repipe plumber
Santa Clara, California (PRWEB) April 01, 2013
Santa Clara plumbers and copper repipe specialists at Triple A Plumbing are offering consumers a no cost Santa Clara copper repipe estimate for new whole house plumbing service. "We are offering a free Santa Clara copper repiping estimate to Santa Clara homeowners who think they might need new water pipes in their house," says Aaron of Triple A Plumbing. As it turns out there are several factors that contribute to needing a copper repipe in Santa Clara according to Aaron. The first is low water pressure. "If you have low water pressure you may need to speak with an experienced Santa Clara copper repipe plumber. Low water pressure indicates that there is a blockage in the line from corrosion built from years of use in the galvanized water pipes."
Copper repiping experts at Triple A Plumbing recommend checking water pipes frequently. They say that if one is experiencing low water pressure, discolored water, rust colored water or it takes a long time for the shower to heat they probably need a Santa Clara copper repiping expert to inspect their home. Another key indicator is how long it takes for the water to heat up after the toilet is flushed. If one lives in Santa Clara and they have low water pressure, slow to heat water, rust colored water or other water issues they may consider calling Triple A Plumbing of Santa Clara.
Triple A Plumbing also recently received the,"Angie's List Super Service Award," for providing consistently high levels of customer service. "Our entire team at Triple A Plumbing is pleased to earn this prestigious award. And, it is especially gratifying because it's based on our customers' perception of our quality," said Aaron of Triple A Plumbing.
"It's a select group of companies rated on Angie's List that can claim the exemplary customer service record of being a Super Service Award winner," said Angie's List Founder Angie Hicks. "Our standards for the Super Service Award are quite high. The fact that Triple A Plumbing earned this recognition speaks volumes about its dedication providing great service to its customers."
In addition to being repipe specialists Triple A Plumbing also handles all types of services including Santa Clara drain cleaning and repair. When it comes to drain repair and replacement Triple A Plumbing has been helping customers for decades. Additionally they also handle Santa Clara trenchless sewer replacement. Trenchless pipe replacement saves homeowners money over traditional sewer repair services because it preserves landscaping according to Aaron.
Triple A Plumbing is also offering a new discount. The new discount can be applied for $25 off any Santa Clara tankless water heater installation. "We are offering this new on demand water heater discount because we support going green and being environmentally friendly. On demand water heaters use less energy and help to preserve the planet," says Aaron.
Triple A Plumbing also handles Los Gatos plumber service, repair and Installation. "It doesn't too crazy around here but we understand that it is particularly important to always have the plumbing working. We offer Los Gatos plumbing service to residential and commercial customers," says Aaron.
To learn more about the San Jose plumbing experts at Triple A Plumbing please visit their website, read their positive Santa Clara copper repipe reviews or see their informative videos. Consumers are also encouraged to explore their profile on the Better Business Bureau website. People can also give them a call for the latest information and discounts for Santa Clara copper repiping.