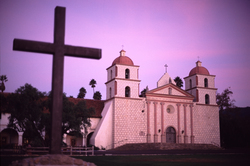 Santa Barbara, CA (Vocus) March 3, 2009
The Santa Barbara Conference & Visitors Bureau and Film Commission announces spring travel news, just in time for spring break planning and summer vacation daydreaming. With the economy on everyone's mind, the local hospitality industry is offering many ways to save with the "Perfect Pairing" Sideways-inspired value pass, the Santa Barbara Car Free Project's ''Take a Vacation from the Gas Pump'' promotion and ongoing Hot Deals on http://www.santabarbaraCA.com .
SIDEWAYS RETURNS
The wine-infused, Oscar-winning film Sideways is back ... but it's not the sequel! To toast the return of Sideways with the "Perfect Pairing" DVD release of Sideways and Bottle Shock, Santa Barbara County hotels, restaurants, wineries and tour companies teamed up to create the "Perfect Pairing Pass". The pass can be downloaded from http://www.sbfilmtour.com and the discounts and special offers are valid through Memorial Day. "Perfect Pairing" values include 2-for-1 wine tastings, complimentary glasses of wine (with purchase) at area restaurants and discounts on guided wine tours featuring Sideways locations. "Perfect Pairing" hotel packages including exclusive wine tastings and behind the scenes tours are also available.
HOT DEALS
Current economic forecasts might be gloomy, but in Santa Barbara the outlook is downright sunny for travelers seeking great values and rejuvenating escapes. It's an ideal time to take advantage of stellar off-season savings, creative added-value packages and new promotional discounts. Whether it's receiving a 3rd night free at luxury hotels like the Four Seasons Resort the Biltmore Santa Barbara and Canary Hotel, or cashing in on special admission rates at area attractions like the Santa Barbara Maritime Museum and Lotusland, there's a "Hot Deal" to suit every taste and budget. Hotels sweetened package deals with discounted wine tours, complimentary wine tastings and meals, indulgent spa treatments and family-friendly perks. Collaborative discount programs like the Santa Barbara Car Free Project's ''Take a Vacation from the Gas Pump'', the Santa Ynez Valley's ''Double Your Pleasure Santa Ynez Valley Savings Certificate'' and the ''Perfect Pairing Pass'' serve up dozens of ways to save. Visit http://www.santabarbaraCA.com for a complete list of Santa Barbara's Hot Deals.
CALIFORNIA CONDORS SOARING INTO THE SANTA BARBARA ZOO MARCH 2009
They soared when wooly mammoths and saber toothed tigers roamed the earth, but nearly went extinct within the last few decades. Down to only 27 birds in 1987, the California condor is one of the great conservation successes with 167 birds now flying free and another 160 in captivity. The Santa Barbara Zoo becomes only the second Zoo in America to display these giant, dramatic birds with the March 2009 opening of the new $6 million California Trails exhibit complex. Other threatened or endangered California natives are also featured - the tiny Channel Island foxes, found only off the Santa Barbara coast; bald eagles, making a major comeback across the nation; once numerous California desert tortoises; and threatened reptiles and amphibians native to the nearby Los Padres National Forest. Up to six California condors will be on view in the Zoo's spacious, specially designed hilltop aviary overlooking part of the condors' historic range. With nine-feet a wingspans and vibrantly colored, featherless faces only mother condors could love, these are the largest birds in North America. Visitors will be able to get close-up looks at the birds both from below and above, catching sight of them perched on tree snags, bathing in streams and waterfalls and pools, roosting in a rockwork cave, or spreading their huge wings and gliding within the 174,000 cubic foot enclosure.
HORSING AROUND
Santa Barbara offers aspiring equestrians and horse enthusiasts plentiful opportunities to giddy up. Alisal Guest Ranch & Resort, Circle Bar B Guest Ranch and Rancho Oso Guest Ranch & Stables offer country-style accommodations and guided trail rides. The latter two, as well as El Capitan Ranch, are open for day riders. Alisal Guest Ranch & Resort offers three-night, four-day crash course adventures combining the best of Wild West culture with the true grit of working on a real cattle ranch: "Cowgirl Bootcamp" 5/3-6 and "Couples Bootcamp" 10/22-25. Santa Barbara Polo & Racquet Club, celebrating its 100th anniversary in 2011, hosts a world-class summer season May through October that allows spectators to see some of the world's best professional polo players in action. Sunday games are open to the public for just $10, and the 2009 season will offer new amenities and activities previously not provided to the public, including private VIP cabanas (by reservation), local winery tastings and family days.
UPCOMING SIGNATURE EVENTS: SPRING & SUMMER
Taste the fruits of Santa Barbara Wine Country April 17-20 at the Vintners' Festival, a weekend filled with open houses, library tastings, winemaker dinners and the signature festival event featuring over 60 wineries. Celebrate Earth Day in its birthplace April 19 at the South Coast Earth Day Festival. The plaza of the Old Mission is transformed with 200 colorful street paintings created by 400 artists during the annual I Madonnari Italian Street Painting Festival May 29-31. The festive Summer Solstice Parade June 20 features a colorful moving street carnival complete with extravagant floats, whimsical costumes and creatively choreographed dancing ensembles. Since 1924, Old Spanish Days Fiesta (August 5-9) has been Santa Barbara's key signature event and draws tens of thousands of visitors to the area for the five-day, city-wide celebration featuring food, drink, music, dance rodeo and more. http://www.santabarbaraCA.com/calendar
LIVEABOARD INSTRUCTIONAL SAILING VACATIONS
The Santa Barbara Sailing Center offers world class Liveaboard Instructional Vacations during which students spend between four and eight days training along the Santa Barbara Coastline, as well as the famed Channel Islands National Park. During the instructional vacation, students will transition from a novice to a "Bareboat Charterer" capable of multiple day charters anywhere in the world. All graduates walk away with professional American Sailing Association credentials. The programs include semi-private instruction and full liveaboard accommodations aboard Catalina Yachts, which eliminates the added expense of lodging.
HOTEL CORQUE OPENS IN SANTA BARBARA WINE COUNTRY
Formerly the Royal Scandinavian Inn, Hotel Corque will open in March 2009 as a luxury property in the heart of Santa Barbara Wine Country. The Santa Ynez Band of Chumash Indians purchased the 25-year old inn in 2007, and infused a hefty chunk of capital to upgrade the Solvang property. The rebranded and remodeled 134-room inn will offer 18 suites, 11 two-room suites, six junior suites and an 11,000-square-foot Presidential Suite. Chef Bradley Ogden brings star power to the property's new restaurant, Root 246, which will follow his signature "authentic American" style using the freshest seasonal, regional ingredients available. Rates start at $150.
###