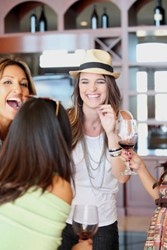 Santa Barbara, California (PRWEB) June 24, 2013
Santa Barbara's wine region is growing significantly and the positive impact has been felt by many. The Director of Communications at the Santa Barbara Conference & Visitors Bureau and Film Commission, Michelle Rodriguez, also reports an increase in traffic to the wineries saying, "Tourism is picking up in Santa Barbara and we expect a strong summer. The wineries should see an influx of new visitors this summer."
Grapeline Wine Tours, which began serving Santa Barbara County's wine region in 2007, reported a 22% increase in ridership from May 2012 to May 2013. Kim Kelliher, Grapeline's President and Co-founder, said "We're seeing more rapid growth in our Santa Barbara branch than in the other wine regions we serve. At the same time, we're also seeing more competition, so the whole segment is increasing strongly right now." In response to the increasing demand, Grapeline added two new deluxe touring coaches to its Santa Barbara operation in early 2013.
Out of the 75 activity companies that travel information site TripAdvisor.com lists for the Santa Barbara area, 21 offer wine tour services into the nearby Santa Ynez Valley. Wine touring is the most commonly listed activity listed for the area, surpassing water-based activities which traditionally have been the most frequently listed.
Santa Ynez Valley Marriott's General Manager, Michael Hendrick states, "We have noticed an increase in leisure hotel guests who often utilize the services of wine tour companies in the Santa Ynez Valley. People want a story to share with friends when they open a bottle of wine and some of the leading tour companies, like Grapeline, give them that experience. They offer our guests an exceptional experience with knowledgeable and professional staff, clean, spacious vehicles, and they visit a variety of superb wineries to ensure each guest finds a wine they love."
According to the Wine Institute, wineries and vineyards are the second most popular tourist destination in California after Disneyland, attracting 14.8 million tourists each year.