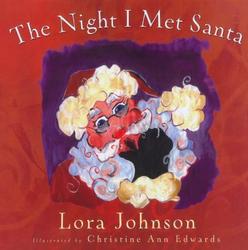 "The Night I Met Santa" is a wonderful tale of love, forgiveness, and grace. Lora Johnson crafted a story that beautifully illustrates the reality of God's unmerited love for us. Kids will love it! Parents will too! --Susie Larson Author, Speaker
Anoka, MN (PRWEB) December 4, 2009
NLJ Books has entered into two distribution deals, one with CJ's Cottage to the gift market and another with Partners Book Distributing, to promote the new Christmas classic, The Night I Met Santa. The book is authored by Lora Johnson and illustrated by Christine Ann Edwards.
The Night I Met Santa was written after an incident occurred in Johnson's home. After moving to Oak Grove, MN, Johnson's oldest son, Isaiah, being stressed out from the move and his new surroundings, committed some naughty acts during the week of Christmas. In a moment of frustration Johnson pulled down the offender's stocking and told Isaiah that Santa wouldn't be coming to town. In other words, he had made the "naughty list." With Isaiah sobbing in his room Johnson found herself praying to God and asking, "What Now?" Although she didn't really want to go through with her discipline, she didn't want to reward Isaiah's bad behavior either. God answered Johnson's prayer by speaking to her heart and saying, "Lora, Christmas is all about getting the gift we never deserved and never will." With this revelation, Christmas, for Lora and her family, became more about the gift of Christ's forgiveness than about making a "naughty or nice list."
Johnson has been doing signings throughout the Midwest and sales are approaching 4,000 books.
The Night I Met Santa is being used by Churches for community outreach ministries and her book was recently featured at the KKMS Pastor Appreciation Breakfast.
Lora Johnson is available for interview and loves to share her experience and the wisdom she's been able to glean from it.
For more information, please visit http://www.thenightimetsanta.com.
Media Contact:
Neil Johnson
NLJ Books
612-964-8781
http://www.thenightimetsanta.com
# # #