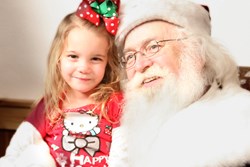 Santa Claus, IN (PRWEB) November 20, 2013
Declared a "Top Ten Christmas Destination" by Hotwire.com last year, Santa Claus, Indiana, will host the 2013 Santa Claus Christmas Celebration the first three weekends of December.
This celebration, filled with family events and activities, will be held on Fridays, Saturdays, and Sundays beginning December 6.
New events this year include the Run Run Rudolph 5K through the Santa Claus Land of Lights at Lake Rudolph Campground & RV Resort, a Christmas Dog Parade at the Santa Claus Community Center, and a Holiday Cookie Contest with decorating demonstrations at Santa's Lodge.
Additional holiday events throughout America's Christmas Hometown include:

International Fruitcake Eating Championship at the Santa Claus American Legion
The Story of Santa Claus at the Santa Claus Museum & Village
Santa Claus Arts & Crafts Shows at various locations
Face painting at Holly Tree Christmas Shop
Chestnuts Roasting on an Open Fire and Christmas Woodcarving Demonstrations at Santa's Candy Castle
Christmas Dinner with Santa at Santa's Lodge
Lincoln Amphitheatre presents "Scrooge's Christmas" at Heritage Hills High School
Wine Tasting at Christmas Lake Golf Course
Christmas Lake Village Festival of Lights
"The town of Santa Claus is a wonderful place to be during the holidays," says Melissa Brockman, executive director of the Spencer County Visitors Bureau. "Special lodging packages and events each weekend offer families a great way to spend time together and even establish new traditions during the Christmas season."
Weekend lodging specials are available at Lake Rudolph Campground & RV Resort, Santa's Cottages, Santa's Lodge, Motel 6, and Rockport Comfort Inn & Suites.
For more information about the Santa Claus Christmas Celebration, lodging specials, and a schedule of events, call (888) 444-9252 or visit http://www.SantaClausInd.org/Christmas.