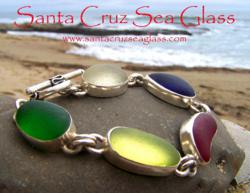 "They are able to make treasures out of what has been left behind. This is one of those good stories."
Mark DiOrio, Campaign Director of the National Marine Sanctuary Foundation
Santa Cruz, California (PRWEB) September 21, 2011
Krista Hammond and her husband started Santa Cruz Sea Glass 5 years ago, with the dream of creating "guilt-free jewelry" using sea glass found on the beaches of California and USA sourced recycled sterling silver. Being 1 of 30 new products chosen for this year's 32nd Annual News & Documentary Emmy Awards gift bag is a dream come true.
Sea glass, which is man-made glass that has been worn smooth by ocean waves and sand, is considered a diminishing resource and the couple has been collecting it for over two decades, from San Francisco to Monterey. Wanting to give back to the ocean, Santa Cruz Sea Glass became an official partner of the National Marine Sanctuary Foundation. They have been donating a portion of sales to ocean conservation and education since 2008.
Creating every piece by hand in their home based studio, their clients now range from all over the world and frequently check out their Facebook page to see photos of new creations in the making. A happy, repeat clientele is what Santa Cruz Sea Glass believes is a key to success and being included in this year's News & Documentary gift bag is the big break the couple hopes they have been waiting for.
###