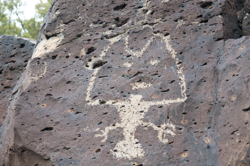 Santa Fe, New Mexico (PRWEB) January 25, 2012
2012 marks the State of New Mexico's 100 years of statehood. For this exceptional year-long celebration Seven Directions Tours has designed a new historical adventure led by a Native Pueblo expert featuring a day-long quest highlighting the beginning of human inhabitance in the area and the evolving American Indians' culture through centuries of change and foreign presence. The compelling experience includes:

Visiting ancient settlement sites
Historical highlights
Meaningful artifacts from singular collections
Sampling the ingredients of the diet of those who were here before.
Santa Fe was already 200 years old when the White House was being built. It is the oldest capital in the United States. Still, its history goes back many more centuries. Today the city serves as a recognized cultural and artistic location with an unbeatable lifestyle and pure air. La Villa Real de la Santa Fé de San Francisco de Assís ("The Royal Town of the Holy Faith of St. Francis of Assisi") was once called Kuapogi, "place of the shell beads near the water" by its first inhabitants that found the valley a perfect place for their survival.
To put the state's history in perspective, the year Congress admitted New Mexico into the Union the Republic of China was established, Amundsen discovered the South Pole, Italy acquired Libya after a war with the Ottoman Empire, Gustav Mahler's 9th Symphony premieres in Vienna, and the Pulitzer Prize was created.
From 10 to 6 a Native Pueblo expert will lead a journey through a time line that spans hundreds of years. His knowledge of the history, habits, beliefs, and turmoil of his ancestors offers a poignant insight into some of the country's most interesting and intriguing history. A lunch at a traditional Pueblo home and a final dinner at a Native chef's home provide an enjoyable experience of the traditional healthy Native cuisine.
This unique day-tour offers an entertaining discovery of Santa Fe's diverse heritage that still holds a significant impact on today's life and contributed to its nickname - the "City Different".
This Santa Fe tour requires a 72-hour advance reservation and is available from April to November 2012.
For further information and media inquiries: Patrizia Antonicelli - Tel.505.820.3305
About Seven Directions Tours:
Seven Directions | Cultural and Sustainable Tours has established itself as one of the finest sustainable tour operators in New Mexico and the Southwest. They facilitate exceptional tours that create a memorable and authentic experience that is relaxing and profound in every respect. Seven Directions Tours caters to a wide-ranging audience that seeks a hands-on experience by putting them in touch with the landscape and the people. Clients learn salient information in the comfort of a tour they can customize. Seven Directions Tours can accommodate large and small groups, and individuals. They also specialize in Fly & Drive programs that clients can take on by themselves. To learn more about Seven Directions visit them at http://www.sevendirections.net
###