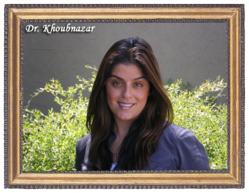 Santa Monica, CA (PRWEB) June 14, 2011
Dentist in Santa Monica, Dr. Sanaz Khoubnazar, DMD, is now offering a new special promotion for Zoom teeth whitening at a discounted price of only $179. Area residents are displaying some of the most beautiful smiles thanks to the cosmetic dentistry procedures provided by the dental practice of Dr. Khoubnazar. Investments have been made in modern technologies and multiple treatments are now available from Dr. Khoubnazar to create absolutely dazzling smiles and Zoom Teeth Whitening is the new addition to these treatments.
White and bright smiles are everywhere in Southern California. A combination of treatments can be used to produce these smiles. A popular method is cosmetic teeth whitening. The most common method is in-office teeth whitening by Santa Monica dentist, Dr. Khoubnazar. A simple procedure is completed in about an hour to gently whiten teeth to a natural white color or even brighter. This is the same whitening treatment made popular by movie stars and famous celebrities.
A popular option for patients to whiten teeth is with dental veneers. These strong and thin shells are placed directly over the top of damaged or discolored teeth. This instantly creates a whiter and straighter smile that is completely customized. Dr. Khoubnazar, cosmetic dentist in Santa Monica, places these veneers to construct an amazing new smile. These cosmetic procedures are providing more opportunities for patients to receive their dream smile.
The cosmetic restorations that are provided by Santa Monica cosmetic dentist, Dr. Khoubnazar, are in demand by area residents that want to transform an existing smile into a celebrity smile. These treatments are perfect for any person that is looking for a more youthful appearance. A great smile is instantly noticed when displayed. Dr. Khoubnazar gives patients the ability to show off a white and attractive smile.
About Dr. Khoubnazar
After graduating from Temple University School of Dentistry in 2002, Dr. Khoubnazar brought her passion for dentistry to the residents of West Hollywood and Santa Monica. Dr. Khoubnazar is known for staying current with the newest dental technologies and advanced studies in cosmetic dentistry, implant dentistry and dental reconstructions.
For more information about these treatments offered by Dr. Khoubnazar, visit http://www.smilessantamonica.com. You can also call 310-829-0808for more information or to make an appointment at their office at 2915 Santa Monica Blvd., Ste 3, Santa Monica, CA 90404.
PR by http://www.seocompanyca.com
###