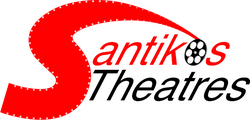 San Antonio, TX (Vocus) March 3, 2010
Santikos Theatres, the Texas based theatre circuit, is bringing the best in cinema technology to its 8 locations in San Antonio and Houston. All theatres will have digital projection within the coming months, offering guests superior picture and sound quality on 98 Santikos screens. Currently, the Silverado 19 IMAX, Palladium IMAX, Silverado 16 and Embassy 14 have converted all existing 35mm auditoriums to digital using Barco Digital Cinema projectors. Art Seago, director of operations for Santikos has led the company's technology upgrades.
"When we decided to convert to digital circuit wide, we underwent the process of comparing the wide array of options available. Barco brought to us superior technology, quality, value and service which is what we strive to provide to our customers at all times."
In addition, 27 XpanD 3D screens will be added in time for Alice in Wonderland 3D to be seen at any Santikos theatre on March 5th, 2010. "XpanD offers an unparalleled 3D presentation with their exclusive Active Glasses which offer the clearest, flicker-free 3D experience in the world," Seago said.
D-BOX motion seats will be coming to San Antonio's Silverado 16 in April 2010 following the highly successful launch of this exciting new viewing experience in Houston at the Silverado 19 IMAX. The patented technology, D-BOX Motion Code™, is embedded frame by frame, onto each film by D-BOX Motion Designers, perfectly synching the onscreen action with the motion sensations of each seat. Additionally, seats come fully-equipped with personalized intensity adjustments allowing movie viewers the opportunity to experience as much or as little action as desired.
Over the years, Santikos Theatres has established a well-deserved reputation for bringing the "latest and greatest" in cinema technology to South Texas. Santikos' founder and President, John L. Santikos is proud to continue his company's tradition of innovation. "It has always been our goal to offer our guests the best possible presentation, and provide an experience to remember. We are in the entertainment business and offering the most exciting new technology and amenities give our guests a reason to keep watching the movies with us."
About Santikos
Santikos Theatres was founded in 1915 by Louis Santikos, a Greek entrepreneur and pioneer in the Texas motion picture industry. His son John followed in the family legacy and entered the movie business after graduating from St. Mary's University and remains at the helm of his beloved business to this day.
There are 8 Santikos Theatres; San Antonio locations include The Palladium IMAX, Silverado 16, Mayan Palace, Embassy 14, Rialto Cinema Bar & Grill, Northwest 14 and The Bijou Cinema Bistro, the city's only art house and in Tomball, The Silverado 19 IMAX. Santikos remains the only locally owned and operated theatre circuit in South Texas and proudly continues their tradition of customer service, community relations and superior cinematic presentation.
Media Contact:
Meghan Vincent
Director of Communications
210-496-1300
meghan(at)santikos(dot)com
http://www.santikos.com
###