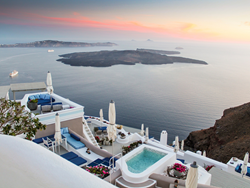 Santorini, Greece (PRWEB) February 09, 2017
Enjoy the magic and romance of Santorini at special rates with Early Booking Offers for vacations between April 28 and June 18, 2017 at the serene retreat voted "Greece's Leading Boutique Hotel" at the World Travel Awards 3 years in a row.
If thinking about sitting in the sun gazing at a sweeping view of the Aegean Sea or bathing in a private plunge pool while sipping on a glass of local Greek wine, then think about booking the Iconic Santorini now. An early booking will assure a view and the best possible rates.
Iconic Santorini, a truly extraordinary multi-level hideaway carved into traditional caves on the volcanic cliffs, is perched 1,000 feet above the sparkling blue bay of the caldera. Its 19 residences and rooftop decks feature balconies and terraces so that guests can dine, relax, cool off and cast off the cares of the everyday life enveloped by awesome panoramic views.
The individually designed suites, re-imagined from traditional Santorini homes and craft shops, reflect the island's unique white-vaulted style and colorful fabrics, now skillfully adapted for today's demanding travelers. Guests live the authentic Greek experience while still enjoying luxury amenities like individual air-conditioning, flat-screen televisions with international channels, private routers for hi-speed Wi-Fi, JBL sound systems and sumptuous 4-layer COCO-MAT bedding…all the comforts of home, in other words, with the bonus of Hellenic hospitality from a dedicated highly professional staff.
In addition, discerning travelers, honeymooners and lovers rave about Iconic's serene fitness and massage suite with its own grotto pool, the outdoor swimming pool with a jetted seating area and the hotel's modern take on a traditional taverna serving Greek cuisine of the highest quality.
Regular double rates at "Greece's Leading Boutique Hotel" include breakfast, mineral water, roundtrip airport transfers, and complimentary high-speed Internet access begin at $621 a night . For details of the specific Early Booking Offers for each individual suite, email info(at)iconicsantorini(dot)com and include booking code ICO-10
Please visit our website http://www.iconicsantorini.com for full details of each residence with photographs hard to resist.
Remember, with only 19 suites in the entire hotel, availability is limited: to ensure the residence of dreams, on the desired dates book soon.
Coming Soon: 2017'S Special Romance Packages
Special Romance Packages include sightseeing, Moet & Chandon Champagne, dinners and other extras at great value-added rates. Full details are available at http://www.iconicsantorini.com/iconic-santorini-romance-packages
Media Information
For more background, interviews and hi-res photography, please contact Martha Morano: martha(at)moranopr(dot)com or 212/860-5566.
The Iconic Santorini is managed by Hospitality America, LLC, a proud member of the Mantis Collection of award-winning five-star Hotels, Eco-Escapes & Lifestyle Resorts. That combination means guests can be sure of authentic, world-class service and a warm, friendly welcome.