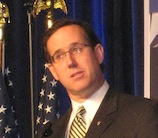 Santorum has more in common with Barack Obama than Ronald Reagan. He is a collectivist, only his collective is the family, not the village nor, as with Marx, society as a whole.
Washington, DC (PRWEB) January 10, 2012
Hudgins argues in recently published article that Rick Santorum is the Most Anti-Reagan Republican (also reprinted by The Washington Times)
Interview Opportunity: Dr. Edward Hudgins, Director of Advocacy and Senior Scholar, The Atlas Society
Contact: ehudgins(at)atlassociety(dot)org or call (202) 296-7263 (AYN-RAND) extension 2
Summary:
With his virtual tie in the Iowa Caucuses, Rick Santorum is the final flavor-of-the-week conservative alternative to former Massachusetts Governor Mitt Romney.
Yet Edward Hudgins, the Atlas Society's director of advocacy and senior scholar argued that the former Pennsylvania senator has more in common with Barack Obama than Ronald Reagan.
In his commentary Hudgins shows that the Gipper as well as Republican icon Barry Goldwater were quite clear that the core of their conservatism was the notion that each individual has a right to personal liberty and that government limited to protecting that liberty.
Hudgins points out that, by contrast, Santorum could not be clearer when he declares that "This whole idea of personal autonomy—I don't think that most conservatives hold that point of view." He rejects the individualism that is at the core of Republican conservatism. He even replaces the "freedom to be left alone" with the Orwellian notion of "the freedom to attend to one's duties—duties to God, to family, and to neighbors."
About Ed Hudgins:
Edward Hudgins, formerly director of regulatory studies for the Cato Institute and editor of Regulation magazine, is an expert on the regulation of space and transportation, pharmaceuticals, and labor. He served as a senior economist for the Joint Economic Committee of the U.S. Congress and was both deputy director for economic policy studies and director of the Center for International Economic Growth at the Heritage Foundation. He has testified on many occasions before Congress.
Ed's opinion writing has been published in the Wall Street Journal, Houston Chronicle,USA Today, Philadelphia Inquirer, Journal of Commerce, Aviation Week & Space Technology, among other publications.
He is the editor of Freedom to Trade: Refuting the New Protectionism, Space: The Free Market Frontier and two books on postal service privatization. His latest collection is entitled An Objectivist Secular Reader.
Ed has appeared on NBC's Dateline NBC, National Public Radio, PBS, Fox News Channel, CNN, MSNBC and Voice of America. Hudgins has a bachelor's degree from the University of Maryland, a master's from American University, and a doctorate from Catholic University in political philosophy. He has taught at universities in the United States and in Germany. He served as Washington director and then executive director of The Atlas Society before taking up his current positions.
About The Atlas Society:
Founded in 1991, The Atlas Society (TAS), a 501(c)(3) nonprofit organization headquartered in Washington DC, develops and promotes open Objectivism: the philosophy of reason, individualism, achievement and freedom. Objectivism was founded by Ayn Rand (1905-1982), the author of Atlas Shrugged, The Fountainhead, The Virtue of Selfishness, and other works. As the founders of open Objectivism, TAS believes that the philosophy is a body of knowledge open to expansion and revision, through rational inquiry and open discussion and debate. The organization's programs reach a broad audience ranging from the general public to graduate students in philosophy.
###