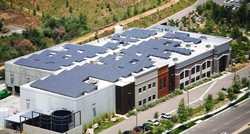 SANYO's engineering teams have risen to the challenge of refining the power generating capabilities of solar photovoltaic technologies for nearly four decades
San Jose, CA (Vocus) July 22, 2010
SANYO North America Corporation (SANYO), whose electricity-producing solar cells and panels are rated at the top tier for independently-certified conversion efficiency, announces the availability of its most advanced HIT Power® solar module, the HIT Power 220A, offering improved efficiency and energy output -- and designed to energize integrators and installers with more power per square foot than ever before.
The HIT Power 220A features certified cell efficiency of 19.8%, and module efficiency of 17.4%, among the best the industry has to offer. Its predecessor, the HIT Power 215, offers an impressive cell efficiency of 19.3% and module efficiency of 17.1% This is the fifth innovation to join the HIT Power® family, which also includes the HIT Power 205, 210, 215 and 220 modules.
"SANYO's engineering teams have risen to the challenge of refining the power generating capabilities of solar photovoltaic technologies for nearly four decades," noted Charles Hanasaki, president of SANYO's U.S. Energy System Solutions Division. "The efficiency and energy production innovations we're introducing in the HIT Power 220A are the result of concerted efforts to drive innovations that produce more energy using less space -- in a variety of environmental conditions," Hanasaki said.
SANYO HIT Power® solar modules are made of 72 hybrid HIT cells that combine two best-of-breed solar technologies -- high efficiency monocrystalline silicon with ultra-thin layers of amorphous silicon. The monocrystalline silicon is sandwiched between the amorphous-Si to offer superior conversion efficiency, excellent temperature characteristics and considerable output under diffuse and low light conditions. All of this helps bring SANYO customers a sense of energy independence by offering them more for their solar dollar.
"The industry has advanced to the point where home and property owners understand that the solar energy solutions they purchase will not only reap them enticing tax credits and environmental incentives, it will be working for 25 to 30 years to virtually eliminate their monthly electric bills," added Hanasaki. "We've invested a great deal into bringing quality, industry-leading solutions to market so customers can enjoy these energy advantages with confidence."
With more power per square foot, incorporating SANYO modules into clean energy solutions for homes, businesses or public agencies also means fewer rooftop modules are required, something that conserves rooftop space and installation time. It can also increase the number of building owners who can deploy rooftop solar solutions despite limited space or awkward architectural impediments.
Also in SANYO's line-up is a product that has seeded architects and building owners across the U.S. with a little green inspiration – the HIT® Double, SANYO's bifacial offering.
"SANYO's HIT Double glass-on-glass modules utilize the bifacial characteristics of HIT cells to generate up to 30% more energy from the panel's back-side, depending on mounting surface conditions," said Atlanta-based architect and SANYO customer Inman Solar co-founder Mark Jones. "The HIT Double panels present us with an out-of-the-box solution with more versatility and functionality than traditional roof-mount systems. These are solutions that can be integrated right into the building," he noted. "These are not just eye-catching, but reliable systems with revenue potential."
The ability of HIT cells to produce electricity from incident sunlight makes the HIT® Double panels popular for building-integrated designs like awnings, pergolas and carports. SANYO even manufactures some of its own silicon ingots and wafers, core materials in the manufacturing of all SANYO solar cells and modules, in the U.S.A at SANYO facilities in Carson, CA and Salem, OR.
--- SANYO Supports the ASES National Solar Tour ----
"With industry advances like their highly-efficient, HIT® solar cell and module technology, SANYO has been helping integrators and installers optimize their power generating capabilities on multiple continents for decades," notes Richard Burns, manager of the non-profit American Solar Energy Society's National Solar Tour.
Installers, integrators and grassroots organizations interested in showcasing their communities' SANYO solar-powered homes, businesses and public agencies – or visiting one of their neighbors' solar solutions -- can do so during the non-profit American Solar Energy Society's (ASES') 15th Annual National Solar Tour, the world's largest grassroots solar event. Last year, 150,000 people in 49 states and Puerto Rico participated.
The event, of which SANYO is a silver sponsor for the second consecutive year, features open house tours of thousands of solar-powered homes, businesses and public agencies across America to introduce the solar technologies citizens are using to 1) slash monthly energy bills, 2) realize rich tax credits, 3) reduce harmful carbon emissions, and 4) assert their energy independence as they improve their property values. The bulk of the tours take place on or about October 2, 2010. Some are scheduled earlier to avoid conflicts with perennial local events or inclement weather.
"Learning about clean, job-creating energy options that provide tax breaks, lower energy bills and create cleaner communities for all of us is something everyone can do to begin to address America's addiction to fossil fuels," said National Solar Tour Manager Richard Burns.
"The ASES National Solar Tour is bringing families and businesses real-life examples of how their neighbors are using solutions like SANYO's to harness free energy from the sun to warm and cool their homes without polluting our environment," Burns said. "Today's solar technologies allow businesses and home owners to employ the clean, abundant energy of the sun without the environmental fallout we're seeing in places like the Gulf of Mexico."
About SANYO:
SANYO Electric Co., Ltd. is a global leading company providing solutions for energy, environment and lifestyle applications. The Energy System Solutions Division of SANYO North America Corporation, a subsidiary of SANYO Electric Co., Ltd., is headquartered in San Jose, California, and handles sales and services for photovoltaic and Smart Energy Systems. For further information, please visit SANYO's web site at http://us.SANYO.com.
About The American Solar Energy Society (ASES):
Established in 1954, the nonprofit American Solar Energy Society (ASES) is the nation's first and largest association of solar professionals and grassroots advocates. Supported by more than 12,000 members, ASES advances research, education, and policy. ASES publishes the award-winning SOLAR TODAY magazine, presents the National Solar Conference, rallies citizens to build a Solar Nation, and leads the National Solar Tour – the world's largest grassroots solar event. http://www.ases.org .
###