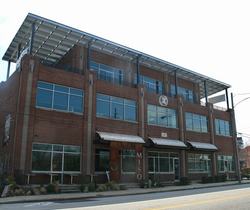 Investment in energy-efficient infrastructure creates jobs, promotes economic development and increases our citizens' quality of life
Atlanta, GA (Vocus) April 29, 2010
SANYO North America Corporation (SANYO) announces that more than 100 Atlanta-area architects, building owners and commercial real estate developers found good reason to smile this past tax day – and the opportunity to glean a little green inspiration -- at the first public tour of Atlanta's newest architectural goldmine – a 16 kW solar canopy. Designed by the team at Inman Solar, the solar canopy is comprised of 84 SANYO bi-facial, electricity-generating HIT® Double solar panels integrated into a unique design atop Atlanta's Edgewood at the Beltline building in the city's Martin Luther King, Jr. Historic District.
The solar canopy was designed to reap rich federal tax credits, state cash grants and local revenue from the power company while generating more clean, solar-produced electricity than the 18,000 sq. ft. building it graces can utilize.
Inman Solar CFO Steve Chiariello says it's no accident that Atlanta's building community was invited to get its first up-close look at the solar canopy on tax day. "Most people understand there are tax credits available for solar solutions," he said. "What impressed our guests about the solar canopy was how it illustrated that we can apply these same tax credits to out-of-the-box solutions with more versatility and functionality than traditional roof-mount systems. Solutions using SANYO's bi-facial panels can be integrated right into the building," Chiariello noted. "These are not just eye-catching, but reliable systems with revenue potential."
Edgewood is within the sixty-four Georgia communities that have earned funds for energy efficiency and renewable energy projects through the Energy Efficiency and Conservation Block Grant (EECBG) program, administered by the Georgia Environmental Facilities Authority (GEFA(1)). In March, GEFA announced allocation of American Recovery and Reinvestment Act (ARRA) funds totaling $13.3 million to support energy-related projects in small-to-medium cities and counties throughout the state.
"Investment in energy-efficient infrastructure creates jobs, promotes economic development and increases our citizens' quality of life," said Georgia Governor Sonny Perdue. "Financing renewable energy projects encourages good stewardship of our environment."
Joining architects, property owners and real estate-minded members of Atlanta's business community on April 15 to learn more about the grant-winning solar canopy solution was the area's locally-elected representative, Atlanta City Councilmember Kwanza Hall. "This is the first solar effort we've seen in Atlanta's Martin Luther King Jr. Historic District. With this solution, the folks at Inman Solar are providing a little green inspiration for architects and property owners throughout the region," Hall said. "It is gratifying to see these kinds of pro-business, clean energy solutions in our community. Job-creating initiatives like these help revitalize Atlanta while bringing local businesses their fair share of the Recovery Act pie."
At the core of the solar canopy's revenue-generating potential are technological advances like SANYO's highly-efficient HIT® solar technology, proven to help integrators and installers optimize their energy-generating capabilities.HIT Power® and HIT® Double solar modules are known for their high energy conversion efficiency ratings and their superior performance under cloudy conditions and during the hottest days of the year, something folks in Atlanta know about first hand.
Inman Solar architect and project manager Mark Jones was particularly interested in the bi-facial characteristics of SANYO's HIT® Double glass-on-glass panels, whose cells can generate up to 30% more energy from the panel's back-side, depending on mounting surface conditions.
"The ability of HIT cells to produce electricity from incident sunlight makes the HIT Double panels ideal for building-integrated designs like awnings, pergolas and skylights," notes Jones. "And because SANYO's solar cells are rated at the highest certified level for conversion efficiency, we felt we could offer clients attractive solutions that give them more for their solar dollar. We also liked the fact that SANYO's silicon ingots and wafers, (core materials in the manufacturing of SANYO's solar cells and modules), are manufactured here in the U.S.," he said.
Atlanta businessman and Edgewood building co-owner Bob Marshall says investing in unconventional solar solutions like Inman's solar canopy not only makes good business sense, it offers aesthetically and environmentally-sound solutions that appeal to key tenants. "The solar canopy enhances the work environment for our top floor tenant, Vantage Realty, and furthers a commitment we made to our largest tenant, CreaXion, to reduce the building's carbon footprint," said Marshall, a Principal of Amsterdam-based Atlantic Realty Partners. Marshall says the Inman-SANYO solution is an effective catalyst for building owners across the Southeast to consider out-of-the-box solar initiatives: "This solution is a hit with our partners. We are redoubling our efforts to extend solar energy use at several of our other properties."
ABOUT SANYO:
SANYO Electric Co., Ltd. is a global leading provider of energy, environment and lifestyle applications. The Energy System Solutions Division of SANYO North America Corporation, a subsidiary of SANYO Electric Co., Ltd., is headquartered in San Jose, California, and handles sales and services for photovoltaic systems. For further information, please visit SANYO's web site at http://us.SANYO.com.
ABOUT INMAN SOLAR:
Inman Solar is an Atlanta-based, full service solar photovoltaic (PV) integrator serving commercial and residential customers in the southeast United States. Inman Solar specializes in developing solar solutions that make economic sense, as well as being environmentally friendly. Learn more at http://www.inmansolar.com.
(1)GEFA is a state agency that administers a wide variety of programs that provide financial assistance and other support services to improve Georgia's environment
Press Contacts:
Aaron Fowles
SANYO North America Corporation
Tel: (619) 886-4149
Email: AFowles(at)sna(dot)SANYO(dot)com
Terri Steele
Tel: (619) 303-9310
Mobile: (858) 220-3317
Email: SanyoSolar(at)cox(dot)net
© 2010 SANYO Electric Co., Ltd. All rights reserved. SANYO and HIT are registered trademarks of SANYO Electric Co., Ltd.
# # #