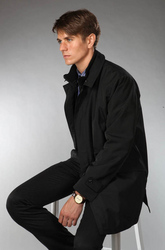 The Hemlock and Juniper coats are a perfect fit in terms of rounding out our In-Stock program.
New York, NY (PRWEB) October 14, 2010
Sanyo Fashion House today announced the addition of two coats, the Hemlock and the Juniper, to their 'In-Stock' program, beginning with the Fall 2010 season. The Sanyo In-Stock program is a collection of best-selling coats that is available all season or all year long, depending upon the particular style.
Until now, all of the In-Stock coats were 34" or greater in length. The Hemlock, at 30", represents a first for the collection. Made of 60% Cotton and 40% Nylon, it's the first exclusively casual jacket in the line. The Hemlock features a dual zipper and snap closure fly front and a stand-up collar with single snap closure. Details include inset sleeves, two outer shirt pockets, two outer deep pockets,icon button closures on the four inner pockets, and a plaid inner lining.
The 34" Juniper is made of 100% Micro Polyester. Its fly front contains both zipper and button closures, both running down only 3/4 of the coat length for maximum freedom of movement. Its luxurious design consists of two layers which perform seamlessly as one but may also be separated to create two individual pieces of men's outerwear, both of which are fully functional on their own. For this reason, it's often referred to as a '3-in-1' coat. Details include a single visible button at the base of the neck, fully inset sleeves, a double-stand collar, four inner pockets with icon button closures, and a plaid inner lining.
"The Hemlock and Juniper coats are a perfect fit in terms of rounding out our In-Stock program," said Chris Champlin, Sanyo's Vice President of Sales. "While the Hemlock breaks entirely new ground as the line's first shorter-length casual* jacket, the Juniper greatly increases the availability of the very popular 3-in-1 style."
Availability:
The Hemlock and Juniper coats are now available on the Sanyo web site (http://www.sanyofashionhouse.com), at various retail partners, or by calling 1-800-99-SANYO (between the hours of 9:00am-5:00pm EST).
Try one on and see why the Hemlock and Juniper are everything you've come to expect from Sanyo. And more.
Sanyo Fashion House, whose parent company Sanyo Shokai Ltd. is the largest apparel manufacturer in Japan, designs and manufactures men's luxury and casual outerwear. Its retail partners include Nordstrom, Saks Fifth Avenue, Barney's New York, and Bloomingdales, among other prestigious retailers.
Press Contact:
Sadako Fujimoto
Sanyo Shokai New York, Inc.
212-869-2990
http://www.sanyofashionhouse.com/rss
###