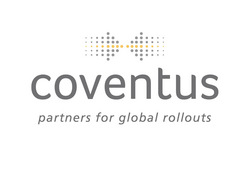 Coventus represents a multi-country alliance of experienced SAP gold channel partners who already support their customers' individual growth strategies with a wide portfolio of offerings
Hannover, Germany and Waltham, MA (PRWEB) March 2, 2010
Coventus Partners, a new global alliance of SAP gold channel partners, today announced its launch at CeBIT 2010, the world's foremost tradeshow for the digital industry. B4 Consulting (USA), variatec AG, (Germany), and Versino AG (Germany) founded Coventus to drive successful rollouts of SAP® solutions for small businesses and midsize companies across multiple countries. An initial focus will be on the SAP Business One application. With domain expertise in subsidiary rollouts of SAP Business One, the Coventus service also includes SAP-certified manufacturing add-ons to SAP Business One. Coventus, as part of the variatec exhibit, will be at CeBIT 2010, Hall 5, Stand A04 (March 2-6).
"Coventus represents a multi-country alliance of experienced SAP gold channel partners who already support their customers' individual growth strategies with a wide portfolio of offerings," said Stephane Mermet, head of Global SAP Business One Sales. "Their strengths combine in-depth implementation know-how with the value of providing add-on solutions for SAP Business One, which support successful project rollouts across the countries where members of the Coventus alliance actively operate as SAP partners."
Coventus offerings span business process consulting, SAP Business One and variatec BX software licensing, implementation services, business change management, end-user training, ongoing support and application management services. Comprised of SAP implementation experts and independent software vendors, the Coventus team has more than 50 years of combined experience with SAP solutions. This experience gives customers best-practice template methodologies for implementations, which expedites the time to value of SAP solutions while lowering the total cost of ownership. Having implemented SAP solutions throughout Asia, Europe, the U.K. and the U.S., Coventus delivers efficient localizations of SAP solutions, which drive consistent and high-quality business processes worldwide.
About Coventus Partners - http://www.coventuspartners.com
B4 Consulting, Inc.
An SAP gold channel partner, B4 Consulting integrates business processes and technologies globally for customers who want to grow their businesses using SAP solutions. With qualified SAP Business All-in-One partner solutions for professional services and engineering, construction and operations, B4 is also authorized to resell and implement SAP solutions for the midmarket, including the SAP Business One application; the SAP Business All-in-One solutions, which includes the SAP Business All-in-One fast-start program; and the SAP BusinessObjects™ portfolio. Headquartered in Greater Boston (MA), B4 Consulting has a global footprint that extends throughout the U.S., Asia, Europe, and the U.K. http://www.b4-consulting.com
Follow Us on Twitter:
http://www.twitter.com/b4consulting
variatec AG
variatec AG, an SAP gold channel partner, delivers the variatec BX solution, which has qualified as "Enabled by SAP Business One" and the Bx Core 4.0 solution, which has achieved SAP-certified integration with SAP Business One. Through integration with SAP Business One, Bx Core 4.0 offers predefined industry-specific business processes for discrete manufacturing, enabling improved productivity and reduced costs. variatec's comprehensive offerings also include the toolset variatec BX Business Designer and the variatec MX implementation methodology. In business for more than 30 years, variatec has headquarters in Europe with offices in Düsseldorf, Heilbronn, Aachen and Budapest. http://www.variatec.com.
Versino AG
Versino AG, an SAP gold channel partner, is a member of the SAP European Partner Executive Council. Headquartered in Germany, Versino has implemented more than 200 projects and is recognized as an expert in implementations of SAP Business One. Additionally, Versino was one of the first designated early partners for the SAP Business ByDesign solution. Through close collaboration with SAP, combined with Versino's customer support center in Walldorf (home to SAP AG), Versino delivers optimal customer liaison and support for SAP Business One. Focused on international rollouts for midsized and enterprise/subsidiary businesses, Versino's global customers in Europe area are served by subsidiaries in Austria, Italy, Switzerland and the Czech Republic. http://www.versino.net.
SAP and all SAP logos are trademarks or registered trademarks of SAP AG in Germany and in several other countries.
Business Objects, BusinessObjects and the Business Objects logo are trademarks or registered trademarks of Business Objects in the United States and/or other countries. Business Objects is an SAP company.
All product and service names mentioned are the trademarks of their respective companies.
SAP Forward-looking Statement
Any statements contained in this document that are not historical facts are forward-looking statements as defined in the U.S. Private Securities Litigation Reform Act of 1995. Words such as "anticipate," "believe," "estimate," "expect," "forecast," "intend," "may," "plan," "project," "predict," "should" and "will" and similar expressions as they relate to SAP are intended to identify such forward-looking statements. SAP undertakes no obligation to publicly update or revise any forward-looking statements. All forward-looking statements are subject to various risks and uncertainties that could cause actual results to differ materially from expectations The factors that could affect SAP's future financial results are discussed more fully in SAP's filings with the U.S. Securities and Exchange Commission ("SEC"), including SAP's most recent Annual Report on Form 20-F filed with the SEC. Readers are cautioned not to place undue reliance on these forward-looking statements, which speak only as of their dates.
###