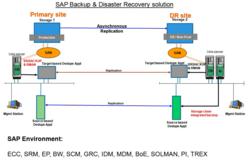 WFT's flexible, dynamic and scalable SAP backup/de-duplication solution provided tremendous cost & space savings.
Princeton, New Jersey (PRWEB) July 31, 2012
Wharfedale Technologies Inc. is a leading SAP infrastructure services and SAP on Cloud consulting firm. Wharfedale Technologies, Inc. recently announced the successful deployment of a transatlantic SAP Disaster Recovery and Backup Solution for a Global Healthcare company.
WFT's customer is a global healthcare company with offices in over 100 countries with major research centers in US, UK, China and Europe. The customer was in the process of migrating their storage from one platform to another and WFT was requested to be involved with the design of the migration approach, new environment resizing, VIO configuration, SAN design, backup solution design and Disaster recovery design for their core SAP landscapes.
The customer's SAP environment consists of a considerable number of components, such as ECC, SRM, SRM-MDM, SCM-Livecache, BW, EP, PI, GRC, TREX, IDM, MDM, CE, BoE XI, Solution Manager, and NDWI. Within these components are combinations of ABAP stack, ABAP & Java dual stack, Java stack, MCOD application types residing on Oracle/MaxDB databases in a UNIX operating system environment.
The scope of the engagement for WFT has involved the following:

Provide advisory role for information gathering, understanding business requirements and providing solutions to meet the customer's business need
Provide design for backend disk layout based on SAP application requirement to achieve optimal performance and meet the high availability, backup/recovery and disaster recovery requirements.
Develop and implement the migration plan to new storage platform with minimum down time
Develop the SAP backup solution integrated with BRTOOLS Oracle RMAN and de-duplication appliances
Develop and implement the SAP disaster recovery plan
Develop monitoring capabilities for the backup and DR solutions
WFT designed backup solutions for databases, application & database binaries, operating systems, archive logs, non-database file-systems and NFS file-systems, with all components capable of reverting back to any specific point in time. This solution was then replicated across all the different components within the SAP landscape to accomplish a consistent backup across the landscape, which enabled the customer to meet their Recovery Time Objective (RTO) and Recovery Point Objective (RPO) requirements.
WFT's storage design expertise contributed to the enhancement of optimal data layout performance by 40%. Its flexible, dynamic and scalable backup recovery solution for the SAP landscape enabled the customer to take advantage of all the SAP supported features of Oracle RMAN like incremental backups, compression and integrate it with the salient features of BR*TOOLS. The de-duplication of SAP backups also provided tremendous space savings for the customer.
The ability to perform DR testing without impacting the production data replication and usage of minimal server resources at the disaster recovery site with the capability to scale up when needed, are some of the core capabilities of the solution offered by WFT to this customer.
About Wharfedale Technologies Inc.
Wharfedale Technologies Inc. (WFT Cloud) is a leading technology consulting firm specializing in SAP infrastructure integrations and services, as well as Private | Public | Hybrid Cloud solutions. Wharfedale has been providing SAP infrastructure solutions to customers for a decade, which includes 65 of the Fortune 100 companies. Wharfedale's highly focused SAP infrastructure expertise additionally extends into High Availability, Virtualization, Backup Recovery, Landscape Optimizations and Managed Services. Wharfedale's portfolio of innovative solutions provides customers with optimal systems performance, minimal downtime while maximizing their capital investment.
SAP and all SAP logos are trademarks or registered trademarks of SAP AG in Germany and in several other countries.