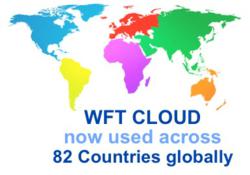 SAP states "The Best-Run Businesses Run SAP". WFT makes it run better.
Princeton, NJ (PRWEB) April 30, 2012
Wharfedale Technologies Inc. (WFT Cloud), a leading SAP Infrastructure and SAP to Cloud consulting firm, provides customers insight into its unique SAP to Cloud deployment model at the SAP Labs Virtualization and Cloud Week 2012 event in Palo Alto, CA.
Ganesh Radhakrishnan, CEO of WFT Cloud, quoted Gartner during his presentation at SAP Virtualization and Cloud Week, "20% of all businesses will own absolutely no IT assets come 2013." Based on this industry evaluation, WFT Cloud is well positioned to assist customers to meet or exceed their goals to reduce operation costs and improve efficiencies.
As a leader in SAP to Cloud Aggregation, WFT Cloud possesses strategic partnerships with multiple, well established Cloud providers. With these relationships firmly in place, customers can take advantage of reducing the cost of running SAP Landscapes, seamless migrations between cloud providers, and SLA driven services.
WFT Cloud unveiled its proprietary SAP Cloud Image Factory (SCIF) at SAP Virtualization and Cloud week. The SCIF is based on the permutation combination methodology which contains nearly 800+ SAP images. WFT Cloud's SCIF enables customers to deploy SAP Pre-Fabricated Landscape in the Cloud within minutes. The SCIF approach also frees up existing resources and additional CapEx which can then be applied to other business critical initiatives. WFT Cloud's proven SCIF methodology reduces a customer's deployment to cloud from months to weeks, weeks to days, and even days to minutes.
WFT Cloud not only provides a most innovative SAP to Cloud solution for its customers, it also enables customers to enjoy the peace of mind derived from our all inclusive hourly pricing model includes BASIS Support, infrastructure stack support, hardware cost(s), OS/DB Backup/Restore, and SAP system refresh and Patching. The end result of building a trusted partnership with WFT Cloud is … no surprises!
Mahesh Reddy, CTO covered WFT Cloud's expertise in SAP Data Protection on Cloud. WFT Cloud provides multiple SAP Data Protection options to meet customers' business needs:

SAP Backup in Cloud for Private Cloud, Hybrid Cloud, and traditional SAP database backup
SAP High Availability in Cloud for Private and Hybrid Cloud
SAP Disaster Recovery in Cloud (On-Premise to Hybrid or VPC Cloud)
WFT Cloud Solutions provide an on-demand, virtualized infrastructure which delivers reliable availability and built-in resiliency for all SAP landscapes (non-production or production). "WFT Cloud customers cite the ease and greatly reduced time to deploy - along with lowered TCO - as a specific examples for migrating their SAP Landscape(s) to WFT Cloud," says CTO Mahesh Reddy.
About Wharfedale Technologies Inc.
Wharfedale Technologies Inc. (WFT Cloud) is a leading technology consulting firm specializing in SAP infrastructure integrations and services, as well as private/public hybrid Cloud solutions. As an SAP certified provider of cloud services, Wharfedale also offers SAP solutions around - high availability, disaster recovery, advanced sizing for virtualization, back up/recovery Integration, systems refresh automation and landscape optimization.
For more information on Wharfedale and WFT Cloud services, please visit http://www.wftcloud.com or http://www.wftus.com or call us at (888) 533-3113.
SAP and all SAP logos are trademarks or registered trademarks of SAP AG in Germany and in several other countries. All other product and service names mentioned are the trademarks of their respective companies.