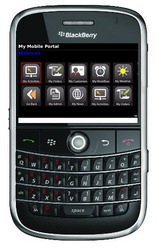 The days of the segregated form driven mobile applications, many of which are dumb browser based deployments, are fast disappearing with the emergence of these exciting new mobile applications
Dallas, TX (PRWEB) April 22, 2009
The SkyMobile 'rich client' for BlackBerry® has been considerably enhanced to fully support bi-directional inter-product operability. This functionality paves the way for more comprehensive and fully integrated 'smart' mobile applications. Users of SkyMobile applications now have the ability to:

Interact with BlackBerry contact, calendar and map information
Automatically call, SMS or email a contact from the mobile application
Interface with the built-in BlackBerry camera
Interact with GPS and GIS information to give location based functionality
Manage attachments such as documents, spreadsheets and PDF's.
Existing Sky template solutions such as Mobile CRM, Sales Order Capture, Workflow Approval, Human Capital Management and Field Service have incorporated these changes and are readily available for deployment on the BlackBerry platform. All BlackBerry components interact natively with the SkyMobile applications ensuring seamless navigation and a brilliant end user experience.
"Smartphone's require smart applications that fully incorporate all aspects of media, voice and visual functionality", commented Stephen Ware, CTO, Sky Technologies. "The days of the segregated form driven mobile applications, many of which are dumb browser based deployments, are fast disappearing with the emergence of these exciting new mobile applications", he concluded.
The full SkyMobile suite, including the latest 'rich client' for BlackBerry will be available and demonstrated at the Sky Technologies booth (#859) at the SAP SAPPHIRE 2009 Conference, in Orlando, Florida from May 11-14. Furthermore, Bruce Johnson, President - Sky Americas will be presenting "SAP on BlackBerry NOW!" at the Mobile Special Interest Group breakout session. This 1 hour overview will include a live application build on stage and show deployment to a BlackBerry device in a matter of minutes.
About Sky Technologies
Sky Technologies specialize in Enterprise Mobility for SAP®. With a strong focus on innovation, Sky Technologies has developed SkyMobile, a SAP® certified technology platform that enables middleware free mobility for SAP® customers. Sky Technologies has a client base that spans 6 continents and 23 countries and continues to deliver solutions to our customers which reduce costs, create value, empower users and enable a greater return from their investment in SAP®.
Contact Dominick Ruggiero (see Media Contact Details) or Inquire at any one of our offices.
Americas
6860 N. Dallas Parkway, Suite 200,
Plano, TX, 75024, USA.
+1 (972) 381-2733
EMEA
Kings House, Home Park Estate, Station Road,
Kings Langley, Herts, WD4 8DH, UK.
+44 (1923) 277 983
Asia Pacific
8/758 Blackburn Rd,
Clayton North, Vic, 3168.
Australia.
+61 (3) 9558 6088
###