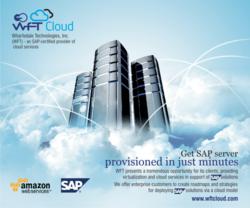 The end of 'SAP On premise Datacenter' – customers will only pay for value and not technology.
- Ganesh Radhakrishnan
Princeton, NJ (PRWEB) February 29, 2012
Wharfedale Technologies Inc. (WFT Cloud), a leading professional IT services consulting firm specializing in cloud infrastructure integration, has announced a direct client pursuit business model approach help migrate their SAP ® landscapes to WFT Cloud. WFT is an SAP certified provider of cloud services and implements, supports virtualization, private and public cloud services.
Many of Wharfedale's customers have described plans to leverage WFT Cloud for its SAP solutions to reduce hardware costs and increase flexibility. WFTCloud is getting accredited by industry experts as leaders with SAP on Private Cloud. Customer are continually deciding how to phase out as much hardware as they're able, while keeping all of its non-production SAP solution-based landscapes and solutions - including development, testing, training and sandbox systems in WFT Cloud where they're secure and accessible.
"Many of our customers are big enterprise companies running SAP solutions and they are moving from traditional on-premise data center to WFT Cloud for their non-production and other non-critical applications," said Ganesh Radhakrishnan, CEO, Wharfedale Technologies Inc. Many Wharfedale customers are in the process of revamping their SAP landscapes with new applications and extensive, multi-phased roll-out development initiatives which are taking place within each organization. The provisioning of new systems can become very challenging within each existing environments, hence CIO's have made the decision to move to cloud to help enabling their development teams to more efficiently meet their time lines.
In the new business model approach it will allow Wharfedale Technologies, Inc. to become the innovative trusted advisor as to the appropriate direction our customers should be looking at as they embark on the Cloud journey. It will give the customer much more flexibility in working more intimately and establishing long term relationships for the future.
"Most important to customers, the decision is not only to move to WFT Cloud for easy provisioning but also to reduce development cost by 20 to 25 percent," said Mahesh Reddy, CTO, Wharfedale Technologies. "Since WFT Cloud provides scalability and elasticity, customers only pay for what they consume within the cloud. The biggest part of that savings is liberation from the need to commit to specific hardware requirements for a specific time.
"Freedom from physical capacity planning makes a big difference in costs and is made possible in WFT Cloud, on which the service provider has created a dedicated virtual private cloud within a public cloud as necessary to raise utilization and make operation efficient," added Ganesh Radhakrishnan, CEO, Wharfedale Technologies (WFT Cloud).
From Healthcare to Financial Services to Transportation, Manufacturing Wharfedale has met and exceeded the challenges of each customer's unique regulatory, compliance and data sensitivity demands. No matter the level of risk and complexity faced, WFT Cloud enhanced each customers confidence with our level of reliability, stability, security, compliance, capacity on-demand and seamless migrations. In the end, WFT Cloud met and exceeded all performance criteria defined by the customer and with the new direct approach with our customers it confirmed WFT Cloud is the right choice for the future.
About Wharfedale Technologies Inc.
Wharfedale Technologies Inc. (WFT Cloud) is a leading technology consulting integration firm specializing in infrastructure integration in the implementation and support of virtualization and private/hybrid cloud services. As an SAP-certified provider of cloud services, it also offers the following services in support of SAP solutions: high availability, disaster recovery, advanced sizing for virtualization, back-up/recovery Integration, systems refresh automation and landscape optimization. For more information on WFT services, visit http://www.wftcloud.com or http://www.wftus.com or call (888) 533-3113.
SAP and all SAP logos are trademarks or registered trademarks of SAP AG in Germany and in several other countries.
All other product and service names mentioned are the trademarks of their respective companies
###