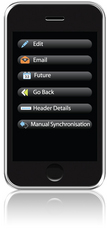 Smartphone's require smart applications that fully incorporate all aspects of media, voice and visual functionality
Dallas, TX (PRWEB) July 30, 2009
Sky Technologies today announced the availability of its rich client for iPhone, available for download on the Apple App Store. The application is pre-configured to integrate with Sky's internal SAP system and will allow iPhone users to access the CRM template application.
Loaded with enhanced functionality and capabilities, the application provides a rich line-up of user-friendly features, including:

Displaying customer information
Customer and contact maintenance
Diary Planning
Sales order creation
Inventory inquiry
Price inquiry
Credit check
Recording of sales activities
Workflow Approval
In addition to the CRM application, Sky Technologies can also provide other template applications for the iPhone such as Workflow Approvals, Human Capital Management and Field Service.
To see a demonstration video of a Human Capital Management application on iPhone, please click here SAP on iPhone.
In increasingly competitive markets, Enterprise Mobility is the next generation in providing productivity improvement and is a must for every organization's IT strategy in order to stay ahead of their competitors. Sky Technologies, through the Apple App Store, allows users to trial their world leading enterprise mobility software, integrated with a live SAP system.
SkyMobile enables your remote sales professionals to be as productive, effective and efficient as those working in the office. The SkyMobile CRM template application is geared to enable several key sales processes to be performed on any mobile device, including the Apple iPhone.
"Smartphone's require smart applications that fully incorporate all aspects of media, voice and visual functionality", commented Stephen Ware, CTO, Sky Technologies. "The days of the segregated form driven mobile applications, many of which are dumb browser based deployments, are fast disappearing with the emergence of these exciting new mobile applications. We are pleased to make this CRM template solution available on the Apple App Store", he concluded.
About Sky Technologies
Sky Technologies specialize in Enterprise Mobility for SAP®. With a strong focus on innovation, Sky Technologies has developed SkyMobile, a SAP® certified technology platform that enables middleware free mobility for SAP® customers. Sky Technologies has a client base that spans 6 continents and 23 countries and continues to deliver solutions to our customers which reduce costs, create value, empower users and enable a greater return from their investment in SAP®.
Media Contacts:
Dominick Ruggiero
Sales and Marketing
dominick.ruggiero(at)skytechnologies.com
OR
Inquire at any one of our offices.
Americas
6860 N. Dallas Parkway, Suite 200,
Plano, TX, 75024, USA.
+1 (972) 381-2733
EMEA
Kings House, Home Park Estate, Station Road,
Kings Langley, Herts, WD4 8DH, UK.
+44 (1923) 277 983
Asia Pacific
4/756 Blackburn Rd,
Clayton North, Vic, 3168, Australia.
+61 (3) 9558 6088
###