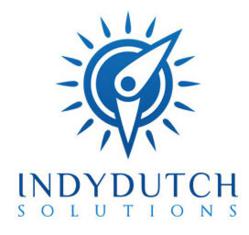 IndyDutch team's knowledge of SAP Business One and add-on solutions surpasses all top SAP consultants, providing us solutions that significantly improved our processes, says David Wu of 2 Global Market
Irvine, CA (PRWEB) November 30, 2012
IndyDutch Solutions, an SAP Business One consulting and software development organization is offering a New Year special by providing top notch, fixed rate consulting services during the months of January, February and March 2013 for all users who contact IndyDutch Solutions at http://www.indydutch.com. A free system audit for existing SAP Business One users also is offered in this New Year celebration.
IndyDutch Solutions realizes that as we turn the corner to a new year, it is a time for fresh ideas and growth for many small businesses. The consultants at IndyDutch Solutions with 10 years experience in SAP Business One offer software implementation and optimization experience, helping small businesses streamline business processes through SAP Business One.
"As experts, we are routinely turned to for problem resolution, our efficiency and cost effectiveness," said Suda Sampath, Vice President of the world-wide firm. "Our goal is to find solutions that maximize the value of SAP Business One, increase customers' revenue while saving time and money. We are known for our successful results."
IT departments can begin the New Year by maximizing the capabilities of enterprise software. IndyDutch Solutions is able to help whether a company is looking to evaluate their enterprise software, upgrade to a new enterprise solution, or maximize the capabilities of their current enterprise solution. IndyDutch Solutions is well-known in the SAP Business One community for their software implementations, work flow optimizations, add-on solutions, customer support and individual attention.
About IndyDutch Solutions
IndyDutch Solutions improves and expedites small business processes by specializing in software consulting and software development for SAP Business One. The IndyDutch Solutions team has been working with SAP Business One since the time SAP Business One was launched. IndyDutch specializes in SAP Business One implementation and optimization, offers several SAP Business One Add-on solutions, and is well-known for their honesty, integrity, and commitment to delivering value in the SAP Business One customer community. To learn more about IndyDutch, visit http://www.indydutch.com SAP Business One™ is a trademark of SAP AG. IndyDutch Solutions and IndyDutch products are not endorsed by or affiliated with SAP AG.